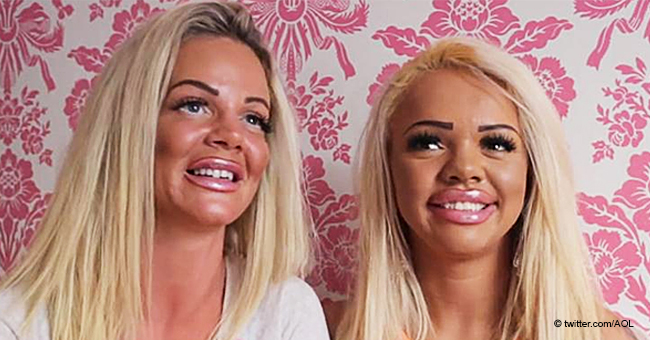 Mom Encouraged Young Daughter to Find a 'Sugar Daddy' in His 50s to Pay for Plastic Surgery
Jeremy Kyle confronted a mother who encouraged her daughter to sleep with men in order to fund their surgery addictions.
While 23-year-old Kayla Morris is no longer interested in enhancing her features through surgical procedures, her mother still hasn't lost her passion for the practice.
According to Metro, Jeremy Kyle interviewed 41-year-old Georgina Clarke and her daughter on his show the "Kyle Files" and bluntly shared his opinion on the situation.
He stated:
"If my 18-year-old daughter was sleeping with a 50-year-old man in return for money to have her boobs done or her lips, I wouldn't think of myself as a very good parent Georgina."
Between the two of them, Morris and Clarke have reportedly spent over $78,000 for lip plumping and breast enhancements. Clarke, however, has finally seen the error of her ways.
She said that she feels like "rubbish" due to her past actions. "It's not the right thing to do," she admitted in the preview of the interview.
It seemed to be a total change of pace for a mother who had previously stated she was "proud" of her daughter's ability to find sugar daddies who helped pay for both of their treatments.
In the old interview, Clarke told MailOnline:
"When Kayla told me that she wanted a boob job and plastic surgery, I was glad because I wanted her to be that kind of person."
She went on to say:
"I'm so lucky to have a daughter like Kayla who pays for my treatments. I don't mind her having a sugar daddy or stripping to pay for our cosmetic work because we're living the dream."
Not only was Clarke happy with her daughter's actions at the time, but she was the one who reportedly got her involved in provocative dancing at the age of 18 to sponsor their lifestyle.
Now, the young adult is regretful of the surgery's she's done. She wishes her mother had never pressured her from the tender age of 11 when, she recalled, she first started wanting to look like her idol Katie Price.
Morris is now ready to try a more "natural" look. She did not hold back in the interview as she also asked, "What sort of mother allows her 18-year-old daughter to actually dance and sleep with older men in return for cosmetic procedures?"
Morris pointed to social media pressure and the looks of reality stars like Kim Kardashian as other factors that compelled her to get surgery. The excuse, though, did not stop many online from criticizing her or her parents as the story went viral.
Meanwhile, the parents of a young couple in Missouri are also receiving criticism for signing papers that allowed their children to get married. At just 15 and 17, Samantha Knowles and Dylan were able to tie the knot last year.
Since Missouri's laws on marriage are unique, all they needed were their parents' signatures. Dylan can't be convicted of statutory rape since his wife is not pregnant. However, the law allowing such marriage remains an issue for many.
The reason the kids' parents gave their blessing was because, as they put it, the children are both "mature, Christian, [and] very morally good people." Knowles' mother, whose sister got married at just 16, believed her daughter was ready.
"Why wait?" she asked, before referencing how in the past women would marry from the age of 13 years old. Now, her daughter is looking for a job as she prepares to start a new life with her husband.
Whereas these parents are being accused of extremely poor parenting, a 22-year-old is being called racist due to her own extreme actions. Hanna Tittensor seems to be obsessed with tanning to the extent that her skin looks to be of a different race.
The North Ireland resident has faced tons of backlash for her drastic appearance but says it "doesn't really bother [her] because people don't know [her]."
Tittensor is proud to share her dramatic dark look online with no shame. Additionally, she's pretty much dismissed the fact that skin cancer runs in her family and says "it's just a matter of obviously getting your moles checked."
Please fill in your e-mail so we can share with you our top stories!