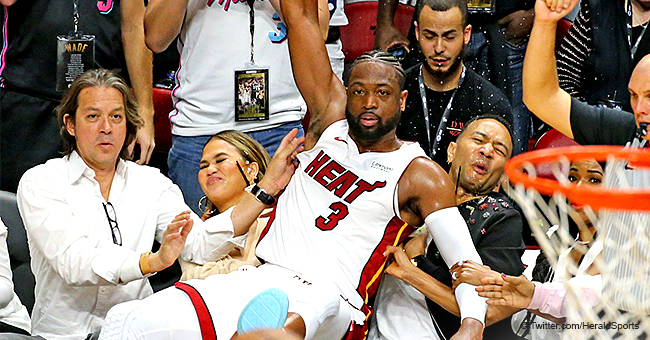 Dwyane Wade Gracefully Crashes into John Legend and Chrissy Teigen at Heat Game in Hilarious Photo
Dwyane Wade is currently cracking everyone up on social media after the moment he crashed into John Legend, and Chrissy Teigen during a Miami Heat game was captured on camera and has since gone viral. The hilarious picture is also generating endless memes from social media users.
Wade played his final home game before retirement on Tuesday and besides his team defeating the Philadelphia 76ers, the perfectly timed photo of him nearly crushing the Legends makes the event unforgettable.
In the image captured by a Miami Herald photographer, Wade, 37, is crashed out mid-game on Legend and Teigen's laps, one hand suspended in a throwing position while he stares at the basketball floating away from him.
Social media users replied to Teigen's tweet with retouched versions of the photo
The "All Of Me" singer and his "Lip Sync Battle" co-host wife, meanwhile, look like they felt all of Wade's 6-foot-4 frame as they wince and appear to pull away. The shot also captures drinks flying everywhere and drenching another basketball fan behind Legend.
The Grammy-winning singer later shared a video of he and Teigen's drenched faces while showing off what was left of his drink.
"Still got my drank," Legend, 40, tweeted, seemingly proud that he didn't lose hold of the cup despite the commotion.
Wade's actress wife, Gabrielle Union, confirmed the singer's cup-holding skills on Instagram, adding that "this is why we are friends."
She continued:
"Dinner's on us in LA. PS. @chrissyteigen might be one of my favorite people on the planet."
When Miami Herald asked Teigen on Twitter if she'd like a copy of the candid shot, the 33-year-old cookbook author replied with a laughing emoji and described the picture as "a renaissance painting."
She didn't have to say more. Social media users replied to Teigen's tweet with retouched versions of the photo incorporated into countless memes and paintings.
Take a look at some of the responses that are sure to have you rolling with laughter:
Meanwhile, if there's anyone who knows what might have been going through Legend and Teigen's minds as Wade slammed into them, it's "Southland" actress, Regina King.
Like the Legends, King was sitting courtside at a New York Knicks vs. Philadelphia 76ers game in February when she was nearly crushed by one of the players.
Joel Embiid, a 7-foot, 250-pound center for the 76ers, was going after a loose ball when he almost charged into the actress. Fortunately, Embiid leaped just in time and only grazed King's hair.
Please fill in your e-mail so we can share with you our top stories!