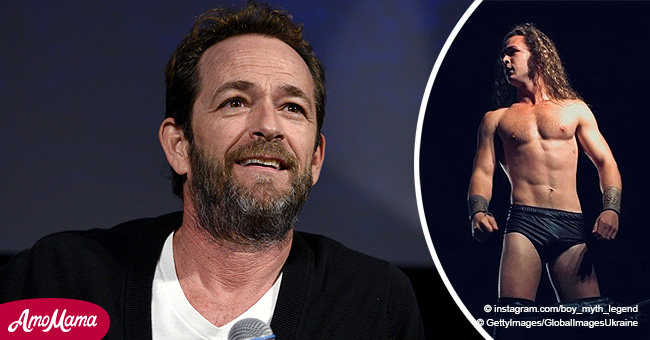 Luke Perry's Son Reveals the Late Actor Was 'so Proud' of His Final Movie Role in a Recent Post
Luke Perry passed away from a sudden stroke after shooting his scenes for "Once Upon a Time in ... Hollywood." The first film trailer has already been released.
Starring Leonardo DiCaprio a struggling TV Western star, the movie has also cast Brad Pitt as his stunt double, together with Margot Robbie who plays Sharon Tate and Al Pacino as DiCaprio's agent. The star-studded film also includes Dakota Fanning, Emile Hirsch, Timothy Olyphant, and Luke Perry among others. Perry plays an actor named Wayne Maunder who had starred in the TV Western "Lancer." He finished shooting his scenes before his tragic death in March. In the first trailer released, fans have begun speculating that the late actor was seen wearing a cowboy hat and beige outfit.
DiCaprio said through Twitter after Perry had died, "Luke Perry was a kindhearted and incredibly talented artist. It was an honor to be able to work with him. My thoughts and prayers go out to him and his loved ones."
Perry passed away from a massive stroke on March 4. He became famous as Dylan McKay of "Beverly Hills, 90210" and more recently as Fred Andrews on "Riverdale." The 52-year-old left behind two children, Jack, 21 and Sophie, 18, fiancée Wendy Madison, ex-wife Minnie Sharp as well as his siblings, Amy Coder and Tom Perry, and parents, Ann and Steve Bennett.
Two days after his father's passing, Perry's son, Jack wrote: "He was a lot of things to a lot of people. To me, he was always Dad. He loved and supported me in everything, and inspired me to be the best that I could possibly be."
He added, "I've learned so much from you, and my heart is broken thinking about everything you won't be here for. I'll miss you every day that I walk this earth. I'll do whatever I can to carry on your legacy and make you proud. I love you Dad."
In a more recent post, Jack, a professional wrestler, wrote on Instagram that his dad was "so proud" of his final movie role. It has become a highly anticipated film directed by Quentin Tarantino.
Tarantino says the film is "a story that takes place in Los Angeles 1969, at the height of hippie Hollywood. The two lead characters are Rick Dalton (DiCaprio), former star of a Western TV series, and his longtime stunt double Cliff Booth (Pitt). Both are struggling to make it in a Hollywood they don't recognize anymore. But Rick has a very famous next-door neighbor … Sharon Tate."
"Once Upon a Time in … Hollywood" is set to premiere in July of this year.
Burt Reynolds was also cast to play a role in "Once Upon a Time in … Hollywood." Sadly, the iconic actor passed away in September of last year at the age of 82. He was to play George Spahn, a blind 80-year-old man who rented out his L.A. ranch as a movie set for Westerns. Months before Tate is murdered, Manson had convinced Spahn to allow him and his followers to live on the ranch. Reynold's niece, Nancy Lee Hess said: "My uncle was looking forward to working with Quentin Tarantino and the amazing cast that was assembled." Unlike Perry, Reynolds had not yet shot scenes for the movie. It is still unknown how the death of Reynolds will affect the film.
Please fill in your e-mail so we can share with you our top stories!