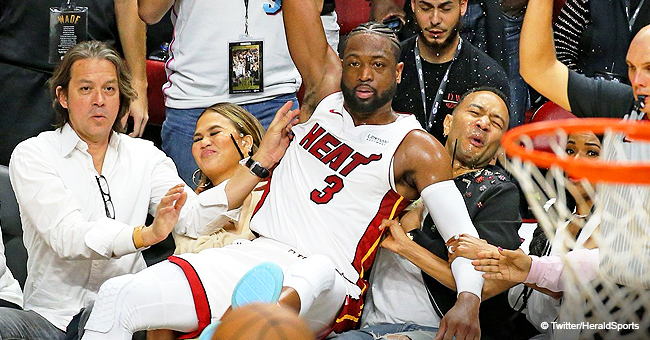 Gabby Union Offers Free Dinner to John Legend & Chrissy Teigen after Dwyane Wade Slams into Them
John Legend and Chrissy Teigen got more than they bargained for when they attended Gabrielle Union's husband Dwyane Wade's final home game.
John Legend and Chrissy Teigen had courtside seats at Dwyane Wade's final home game with Miami Heat on April 9, 2019, right next to the NBA star's wife Gabrielle Union.
But the celebrity couple ended up getting too close to the action when Wade dropped right into their laps during the game.
"This should be your Christmas card. These faces are gold."
JOHN LEGEND AND CHRISSIE TEIGEN'S DATE NIGHT
The celebrity couple, Legend and Teigen, were out on a date night when the NBA star missed a jump shot and fell into their laps.
Photos capturing the incredible moment went viral, and show Legend and Teigen's startled expressions as Wade lands on them, and the singer's drink explodes into the air.
JOHN LEGEND POSTS VIDEO
Legend posted a video clip on Instagram in which he lifts up his plastic cup to show that he still has his "drank," although wife Teigen is busy mopping up most of hers off his face
Legend revealed that his wife was the only one who lost her drink, while he kept his.
Wade received dozens of tributes, and even President Obama sent in a congratulatory video.
GABRIELLE UNION MADE UP FOR HUBBIE'S FAUX PAS
Wade's wife, Union, who was seated next to the Legends was quick to jump in and make up for her husband's faux pas and invited the celebrities to dinner:
"@johnlegend did not, I repeat, did not drop his drink. And this is why we are friends. Dinner's on us in LA PS. @chrissyteigen might be one of my favorite people on the planet #LabPartner#OneLastDance."
DWYANE WADE'S MEMORABLE GOODBYE TO THE NBA
The game was Wade's swan song in basketball. The 37.year-old NBA star is retiring after a stellar 16 years:
"It's like, all a body of work, all the injuries, all the surgeries, all the tough times. It led up to this moment. I couldn't have asked for a better ending to my last game in this arena, to my last season."
The game was certainly memorable, even without Wade landing on Legend and Teigen.
Miami Heat beat the Philadelphia 76ers 122-99, and Wade scored 30 points in his farewell game.
Wade received dozens of tributes, and even President Obama sent in a congratulatory video.
Wade will now have more time to dedicate to his lovely wife, and to their brand new "Shady Baby."
DWYANE WADE'S NEW ROLE AS FULL-TIME DAD
Dwyane Wade who is the father of 4 children, will now have time to devote himself 24/7 to his offspring.
Wade raised his two sons - Zaire, 17, and Zion, 11 - by his high school sweetheart Siohvaughn Funches alone, as well as his nephew. He also shares 5-year-old Xavier with long-time friend, Aja Metoyer.
Wade married actress Gabrielle Union in 2014, and on November 7, 2018, they welcomed the birth of their daughter, Kaavia James.
Wade will now be spending all his time spoiling his one and only little Princess Kaavia, who he and Union call "Shady Baby" for her hilarious miniature scowl.
Please fill in your e-mail so we can share with you our top stories!