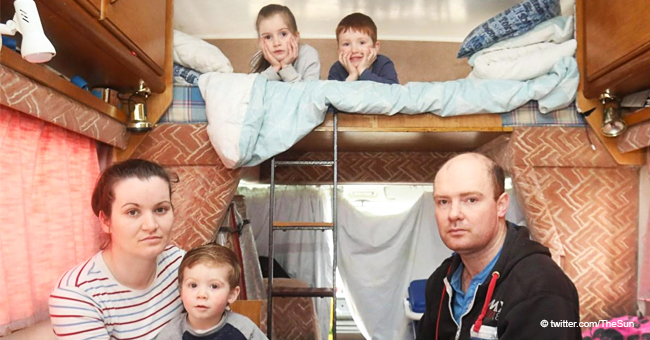 Distraught Parents of Three Share Their Struggle of Living 'like Sardines' in a Mobile Home
Imagine being forced to eat at your bed every single day. While some of us might actually enjoy it, many people do it because they don't have an option. A family of five in the UK are living in a cramped camper van in a forest after being kicked out of their rented pad in the UK.
Jennifer Cawley, 28, was forced to live in a camper van with her husband Raymond, 37, and their three kids ever since they lost their rented space. Parked in Millennium Forest in Glasson, the mobile home is so congested, the family can barely move around while inside.
Jennifer told a source that living in such poor condition has affected the family's health among other things.
"We are all cramped in it. It is like a sardine can--you can't move."
Further revealing her daily struggles, the mother of three said she sends her kids outside to play to make enough room inside to cook.
Space is not the only issue inside the family's mobile home. Their health is being affected by the lack of fresh air inside the van.
"It is putting a great deal of pressure and stress on us all. And it is affecting our health. My partner had to go to the hospital with swine flu since being out here. My youngest son is asthmatic so the conditions are not ideal for him, and he has been quite sick."
As if the whole situation is not bad enough, the family has to deal with a constant fear of judgment from their friends and neighbors.
"It is very hard for our eldest. She has to go to school and tell her friends that she is living with her family somewhere because it is too embarrassing to let her friends know what is really going on," Jennifer shared. "Even when people ask me I tell them I am living with my parents because it's too embarrassing to tell them you're living somewhere on the side of the road."
Jennifer's husband Raymond, who was in the Army for more than a decade, is currently unemployed. He bought the camper to take little trips with the kids and go camping.
The family often feels prejudice from other people who think they should be "moving on" after seeing them like that for some time.
"Some can also get the wrong idea about you because they start to think what sort of background do they come from and what is their ethnicity."
Even the council has turned a blind eye on the family, who claim that they were assured they would receive assistance after telling them they were going to be made homeless.
"They said it had been reported that we asked my landlord for the letter because I wanted to leave the property and go into emergency accommodation," Jennifer said.
Although the family has been offered Housing Assistance Payment, they never get the properties they view.
Jennifer's family is not the only one living in such poor conditions. There are many families in the UK that are forced to live in "shoebox" spaces due to lack of housing facilities.
According to Councillor Tracey Hill, overcrowded houses in the city are not unusual for those who cannot afford rent in the private sector.
Groundbreaking research by Heriot-Watt University discovered that England has a backlog of 3.91 million homes and 340,000 new homes need to be built each year until 2031.
Catherine Ryder, the head of policy at the National Housing Federation, said the government should realize the problem and commit to funding new affordable housing.
Please fill in your e-mail so we can share with you our top stories!