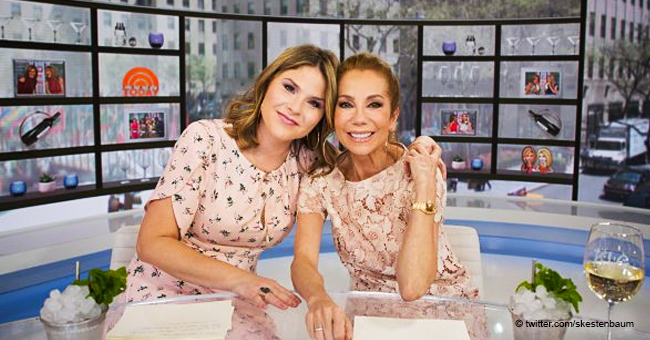 Jenna Bush Hager Shares Kathie Lee Gifford Gave Her a Special Gift Ahead of Her 'Today' Debut
Jenna Bush Hager officially started as permanent co-host of Today with Hoda & Jenna and made her debut a memorable and hilarious one!
The daughter of former president George W. Bush replaced Kathie Lee Gifford on the NBC morning show and had her first official day on Monday. In the surprise video displayed on the show, Jenna's family left her messages of support on her first day.
"Hey Jenna, your old dad here on film to tell you how much I love you and how proud I am of ya," George W. Bush said followed by Laura and her mother in law Margaret as they added, "Jenna your mother and your mother-in-law calling to say we're so proud of you."
The 37-year-old became even more emotional when Henry, her husband, and their two daughters Poppy, 3, and Mila, 5, came by to see her on her first day.
Amid all the sweet surprises and a busy first day, Jenna forgot to mention the touching gift she found in her dressing room ahead of her first day.
She found a jewelry box with a "beautiful card" from predecessor Kathie and told ET, "[Kathie Lee] left me a bracelet that says, 'Your joy is non-negotiable,' I can't believe I forgot. What is wrong with me!"
However, things took an unexpected and hilarious turn on Wednesday morning when Jenna excitedly shared what she had forgotten about on her first day.
At first, Jenna got slightly confused by the inscription and thought that a part of it got repeated, but "turns out, it's not."She handed Hoda the bracelet and asked, "You want to read what it says?"
Hoda's face changed slowly as she read the wording on the bracelet correctly, "My joy is non-negotiable Haley Joy 2017." Haley Joy is Hoda's daughter and her birth year is 2017.
She burst out laughing and said, "Thank you" as Hoda put the bracelet on her own wrist.
It appears to have been a gift to Hoda in 2017 after Haley's birth and now makes perfect sense why the message didn't quite make sense to Jenna.
For Hoda, it has also been an adjustment as she worked with Kathie for many years. "It's like being in a relationship with someone for 11 years, who you love, and saying, 'Well, you know, we're not going to see each other nearly as often," she told ET on Monday. "That is a hard thing to do."
But Hoda is looking forward to co-hosting with Jenna and added:
"Jenna is full of depth and wisdom and humor. For a person who spent her life in front of [the world], she's so strangely down to earth. I'm so excited, not for just me but for everybody, to learn more and more about her."
The bracelet might have some added meaning for Hoda as she got gifted another one while on the Today show almost a year ago. But it wasn't just any piece of jewelry, and as the story unfolded if left not a dry eye in the studio.
Please fill in your e-mail so we can share with you our top stories!