Chrissy Teigen Slams Ivanka Trump for 'Complete Lack of Empathy' for Separated Migrant Families
Chrissy Teigen came for Ivanka Trump, and this time, she referred to her as someone without empathy; she also said unsavory things about President Trump.
English poet, Percy Bysshe Shelley, once said that the greatest force for moral good is imagination. To reiterate those words, the Democratic Party for their yearly retreat invited celebrity couple, Chrissy Teigen and John Legend.
The duo was the special guest, and before an audience of Democrats, they had an interesting discussion with political commentator and "Elle" contributor, Melissa Harris-Perry.
The television host's first question to Teigen was on child separation when asked how it affected her as a mother, the mother-of-two said it is a hurtful thing to watch, and accused President Trump's administration of inflicting pain.
The model didn't end it there; she saw an opportunity to slam the Trump family and focused on Ivanka. Referring to the first daughter, Teigen said she had "Zero empathy."
The 33-year-old said Ivanka who claims to be an advocate for women and their kids is putting up posts about her son and daughter when other children are getting separated from their parents. She added that it shows the first daughter is emotionally stunted. 
Chrissy Teigen blasts Ivanka Trump's "complete lack of empathy" on child separation https://t.co/RIemOgsJFc pic.twitter.com/ppHPuYsHUB

— CNN Politics (@CNNPolitics) April 12, 2019
Still, on a roll, Teigen said the billionaire President have a group of nasty followers who send her messages, and she had to stay away from social media for a while as a result.
As the discussion progressed, Harris-Perry asked what word she thinks women should use more, and the Democrat replied "F*** you," after which she apologized to the Speaker of the House, Nancy Pelosi.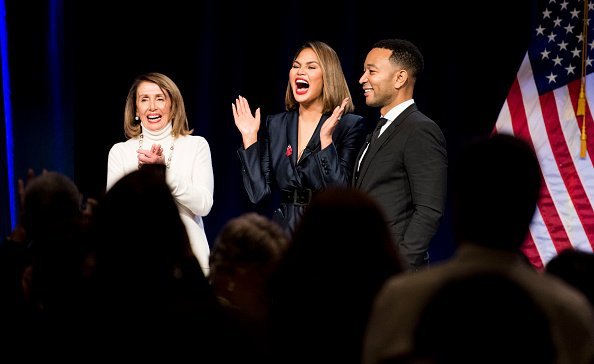 The celebrity added that it goes beyond saying it, but it should be a mindset. Legend joined in to emphasize the point; he said there are times when you don't get to say it, and all you have left is to walk away.
The Grammy-winning singer also had a message for immigration; he asked the agency to become "Big, bold, and generous."
This is not the first time Ivanka is coming under attack. When the pictures first made the rounds, one comment on her social media read "Meanwhile, your dad refuses to reunite brown kids with their parents," and another wrote, "Can you also get cribs for all the children you are separating from their families at the border?"
Teigen equally went after the first daughter in 2017. Ivanka tweeted a photo of herself holding her nephew with the caption:
"Cuddling with my Lil nephew…the best part of an otherwise incredible day." 
The wife of the "All of Me" singer replied that using otherwise implies that she did not like spending time with the baby, and corrected that the right word to use is "Overall."
Ivanka maybe under fire now, but last August, she said family separation is a low thing to do, and she is strongly against children getting separated from their parents.