Meet Donald Trump's Nine Grandkids Before He Becomes a Grandpa for the 10th Time
It is no news that President Donald Trump is the most powerful leader in the world, Border walls or not. What may not be news is the fact that he is a grandfather to nine grandchildren. Just how many of them do you know?
Being President comes with a lot of firsts, and that's no different for President Trump and his family, the first family. A lot is now known about all of Trump's children, even more than many would have loved to know.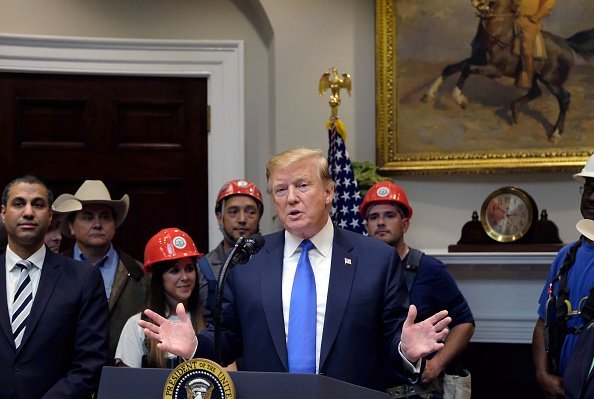 The leader of the White House is a grandfather, and not just an ordinary grandfather as he has nine grandchildren.  Find out all you need to know about them here:
Kai
Kai is the eldest of Donald Trump's grandchildren, and she is the eldest daughter of Trump's son, Donald Trump junior. She is eleven years old and will turn twelve on the 12th of May,
Donald Trump III
Next is Donald Trump III, named after his father and grandfather. He is the first son of Donald Trump Jr. and his wife, Vanessa. He was born on the 18th of February, 2009.
Tristan
Following next in the Trump Grandchildren tree is Tristan. He is the second son of Donald Trump Jr. and was born on October 2, 2011.
Arabella
Beautiful Arabella is the only daughter of Ivanka Trump and her husband, Jared Kushner. She was born on July 17, 2011. The President, in 2017, proudly showed Chinese President Xi Jinping videos of Arabella singing Mandarin songs.
Spencer
He is the fourth child of Donald Trump Jr. He came into the world on the 21st of October, 2012.
.
Joseph
Joseph is the second child of Ivanka Trump and her husband. He was born on the 14th of October, 2013.
Chloe 
The charming Chloe Trump is next on the list. She is the youngest child in the family of Donald Trump Jr. She is four years old and would mark her fifth birthday on the 16th of June, 2019.
Theodore
Theodore Kushner is a cool child. He is the youngest child of Ivanka Trump and Jared Kushner. The adorable baby loves to have fun with his uncle, Barron, the youngest of the Trump children.
Luke
Luke Trump is the youngest of the Trump grandchildren. He is the first child of the President's youngest son, Eric and his wife, Lara. Luke inherited his grandfather's blonde hair and is already getting much attention on social media. 
The President is soon to become the grandfather of ten, with the announcement that Eric Trump and wife Lara would be expecting their second child in August.
Lara and I are excited to announce that we will be adding another member to our family in August! Luke will be a great big brother! pic.twitter.com/L1yR955P2u

— Eric Trump (@EricTrump) April 10, 2019
The President is sure to have his hands full with grandchildren whenever he gets to spend a holiday with his family. Great stuff.