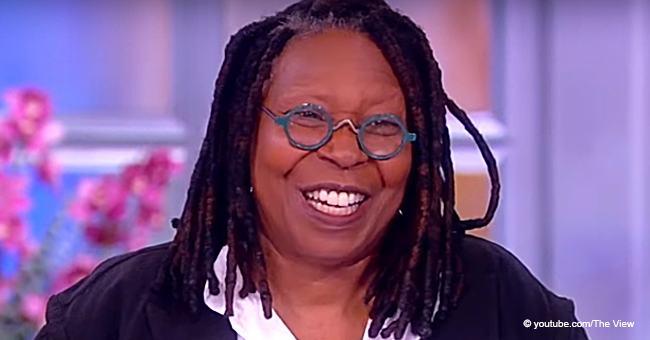 Whoopi Goldberg Reveals How She Was Asked for an Autograph in a Toilet and Other 'Weird Places'
The actress, comedian, and "The View" co-host shared her experiences with fans asking her for autographs in the most improbable places and situations as she discussed celebrities involved in the college cheating scandal.
63-year-old Whoopi Goldberg is an iconic and instantly recognizable Hollywood star who knows a thing or two about the pros and cons of being famous, and she shared some anecdotes involving been asked for autographs.
The "Sister Act" star was discussing Felicity Huffman's plea in the case of the college admissions scandal recently uncovered by the FBI and that lead to the indictment of over 50 people.
Goldberg and her "The View" co-host were discussing Huffman's pleading guilty to the charges against her and how it might impact her sentence, when the issue of also-indicted Lori Loughlin signing autographs just outside court came up.
When the others seemed to be upset about Loughlin smiling and signing autographs in the middle of the legal case that has outraged the nation, Goldberg stepped in to concede that "sometimes people come up at the most awkward times."
"People [come up] in the weirdest places -in the toilet- so I'm not surprised that [Loughlin] would sign autographs."
-Whoopi Goldberg, The View, April 9, 2019.
"I myself have been laying in a hospital bed in the E.R. and people came up and said, 'I know you are not feeling well…'" Goldberg said, recalling an episode that she told about in a book she once wrote.
Goldberg also mentioned the time when an ill-advised fan requested her to slip an autograph under the bathroom stall."What I slipped back was a piece of toilet paper, and I had a bottle of water, and so I made it a little wet and I sent it back," Goldberg shared.
"The woman said, 'Oh, my God, I can't believe you did that,' and I said, 'I can't believe you are asking me for this while I'm sitting on the can! It was crazy!" Goldberg concluded, making her partners and audience laugh out loud.
On March 18, Goldberg returned to "The View" after a month of absence due to the health ordeal she went through when she was affected by pneumonia and sepsis, which, as she said, had her at the verge of dying.
She was deeply missed by both the audience and her co-hosts in the morning show, not only because of her hilarious remarks and stories but also for her support and commitment to social and political causes.
During the above-mentioned episode of the program, Goldberg referred to the recent suspicious fires that destroyed three historically black churches in Louisiana, sending a message to the people allegedly behind this racial-motivated attack.
"You're not going to stop people's faith. You're not going to stop the conversation with God," Goldberg said about the three churches burned out in the state within 10 days, starting on March 26 with St. Mary Baptist Church in Port Barre.
"Maybe if you have an issue, don't burn the church, don't shoot the people. Have your conversation with the god that you're pissed at," the star advised people engaging in such acts of intolerance.
Please fill in your e-mail so we can share with you our top stories!