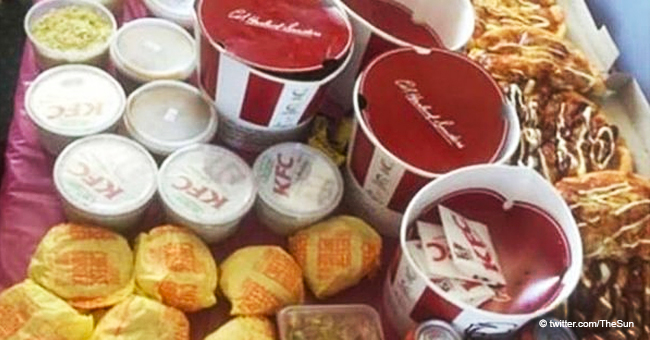 Mom Sparks Debate after Hosting a 'Diabetes Birthday' for Her 7-Year-Old Daughter
A mom faces heavy criticism from social media after sharing details of her child's birthday party.
Feeling cool about how she handled her daughter's 7th birthday celebration, a New Zealand mom took to the "Heil's Kitchen" Facebook group page to share details of the party. She posted a photo showing an array of delicacies with meals ranging from KFC to McDonald's as she proudly announced her child's day.
In Maori, she wrote:
"My girl's 7th birthday party. Kentucky chicken, cheeseburgers, Thai food, pizza."
She then concluded the caption as she jovially referred to the food as "not a healthy diet."
However, parents on social media immediately penned their disapproval as they bashed the woman for serving such dishes at her party.
The timeline was filled with sarcastic comments from Facebook users who opposed to the party food. A user labeled it "a diabetes birthday" Dragging the country's statistics into play, a third person commented:
"New Zealand has a massive obesity problem and this is not helping. No seven year old needs food like this."
Despite, the negative reactions, the New Zealand mom got thumbs up from other users who tried to cheer her up and sent views of approval.
Another mom received backlash from her child's teacher for packing a heavy-set lunch pack for her little child.
The Australian mom wasn't expecting it when her child's kindergarten teacher admonished her for packing a large lunch.
Unable to pinpoint her fault, the Aussie in question took to a Facebook group page to broach the topic concerning her 5-year-old daughter's lunch.
She said she had explained to the teacher the reason behind the size of the meal.
'I explained to her that she's a fussy kid, so one day she will eat something the next day she will act like its poison and not touch it"
She stated while she further explained saying:
'I'm also trying to teach her a variety of foods because all this kid would eat is nuggets and sausages and eggs if I let her."
In the post, the mom explained that she was a first-time mom making it enough reason to explore her child's eating habit.
Please fill in your e-mail so we can share with you our top stories!