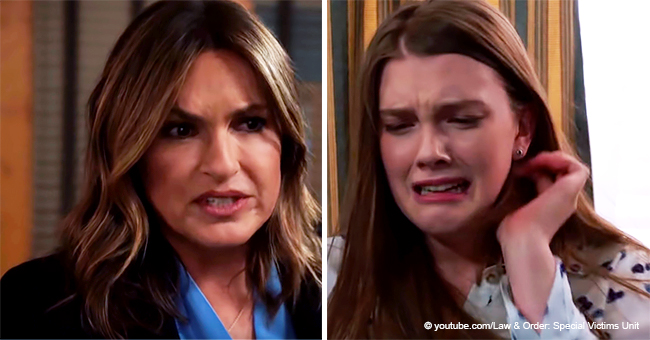 'Law & Order: SVU' Fans' Heads Are 'Still Spinning' after a Plot Twist They Didn't See Coming
The new episode of "Law & Order: SVU" left our jaws dropping with an insane plot twist! The episode titled "Good Girl" was packed with mysteries ranging from a showdown between a daughter and her step-father to a mysterious pregnancy of a 13-year-old. All this drama only made the show more enticing.
In a rather violent scene, a13-year-old Mackenzie (Eowyn Young) is seen having a brawl with her step-father, Garrett Howard, during the opening of the episode. She ends up cutting him and police are called by the neighbors afterward, who take Mackenzie to the hospital for a checkup.
At the hospital, Olivia Benson (Mariska Hargitay) and Dominick Carisi (Peter Scanavino) learn about the girl's mysterious pregnancy upon arrival. The news renders her stepfather speechless as the detectives take him with them for interrogation.
Mackenzie seemed surprisingly happy being pregnant while her reaction leaves her father confused. Amanda and Benson interrogate the teen without much luck. All they could find out was the person who got her pregnant first met her at Whole Foods and he drove a blue BMW.
When the SVU "computer geeks" looked into the teen's Facebook account, they discover a picture of two male friends of Mackenzie smooching her. However, the picture pointed at Quentin Dreyfus, their drama teacher who owned a blue BMW. Mackenzie's story suddenly falls in place and the teacher is called in for investigation.
Pleading innocent to the accusation, Dreyfus even offered to provide his DNA for testing.
Meanwhile, Mackenzie's stepfather insists she was not raped and wants to keep the baby. Finally, a court order is sought for Mackenzie's DNA. Benson and Rollins discuss whether the test is invasive for the teen.
A worried Mackenzie arrives at the police station shortly after Benson's dramatic advice to Rollin about "regret" from earlier episodes. She said her father went after Dreyfus after she admitted to him that he was indeed her unborn baby's father.
The officers go after her stepfather just to find him sitting over Dreyfus' body carrying a weapon, his face smeared with blood.
In a sudden twist of plot after what seemed like an ending with the discovery of Mackenzie's baby's father, Dreyfus' boyfriend comes to the officers to reveal that he and Dreyfus were going to get married and the girl was lying about him being the father of her child.
Benson suspects the teen's stepfather might be involved in the pregnancy but she denies it, saying he wasn't even aware of it. The officers agree her take on the events would give Howard a defense for the murder.
In a wild revelation, the attorney for the defense reveals that the 13-year-old is legally married to her stepfather. Their marriage license leaves everybody in shock.
It is finally revealed that Mackenzie got pregnant in order to avoid her father from removing his consent for the marriage. The insane revelation leads to Howard confessing why he killed Dreyfus and why Mackenzie lied. In the end, he is sentenced to 20 years in prison.
Benson reminds Mackenzie towards the end that motherhood will bring her much more love than she could find with her stepfather. The case closes with a heartwarming hug.
Recently, star Tracy Lauren Marrow aka "Ice-T", paid homage to the series on his social media page.
"SVU has been OFFICIALLY picked up for season #21. Making us the longest running drama in Television History! Respect to the man Dick Wolf, NBCUniversal, Mariska, Kelli Giddish, Peter Scanavino, Philip Winchester and all my past and present Cast and Crew! And definitely ALL the fans!" Ice-T captioned the post.
"Law & Order: SVU" is making TV history after NBC renewed the hit series for its 21st season.
Please fill in your e-mail so we can share with you our top stories!