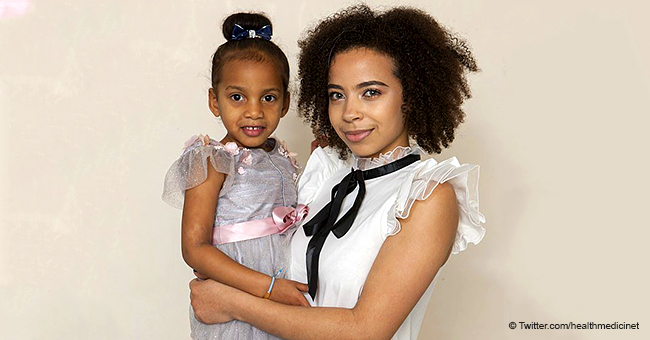 Hair Loss, No Periods, Allergic Children: Women Tell What Going Vegan Reportedly Cost Them
In the past years, there has been an increase in people changing their lifestyle to follow a vegan diet. And although going green is considered good no only for health reasons but also to help the planet, the diet might not work for everyone.
Several women have come forward with their stories about starting a vegan diet and getting the opposite results of what they expected.
One of them is London based singer and rapper Jessica Drue. In an interview with Daily Mail, the 24-year-old mom of one revealed that she had to start making changes to her diet after her daughter was born in 2013.
The girl, Kayla, developed a severe allergy to milk and eggs. "It was so bad that I had to stop consuming dairy, as it passed into my breast milk and made her very ill," said Drue.
Scared of possible cross-contamination, Jessica got rid of all dairy products in her home, although she kept eating fish and meat initially.
Then, she decided to transition to a complete vegan, plant-based diet.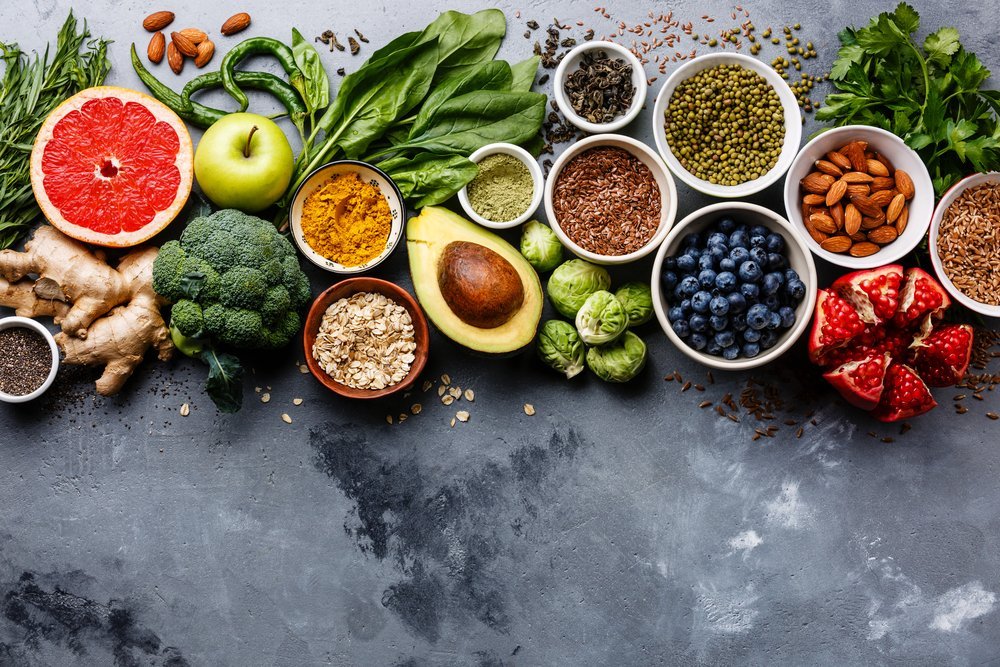 Healthy food clean eating selection. | Source: Shutterstock
"More and more people I knew were trying it," she said. "I thought: "I'm already dairy-free, I may as well stop meat, too.'"
After making the diet change, Jessica started to feel more energized and healthier. However, that didn't last long.
Within a few mon of switching her diet, Drue started to feel fatigued and lethargic, to the point where she needed several alarms to wake up, which didn't happen before.
To her horror, she also noticed her hair was beginning to fall.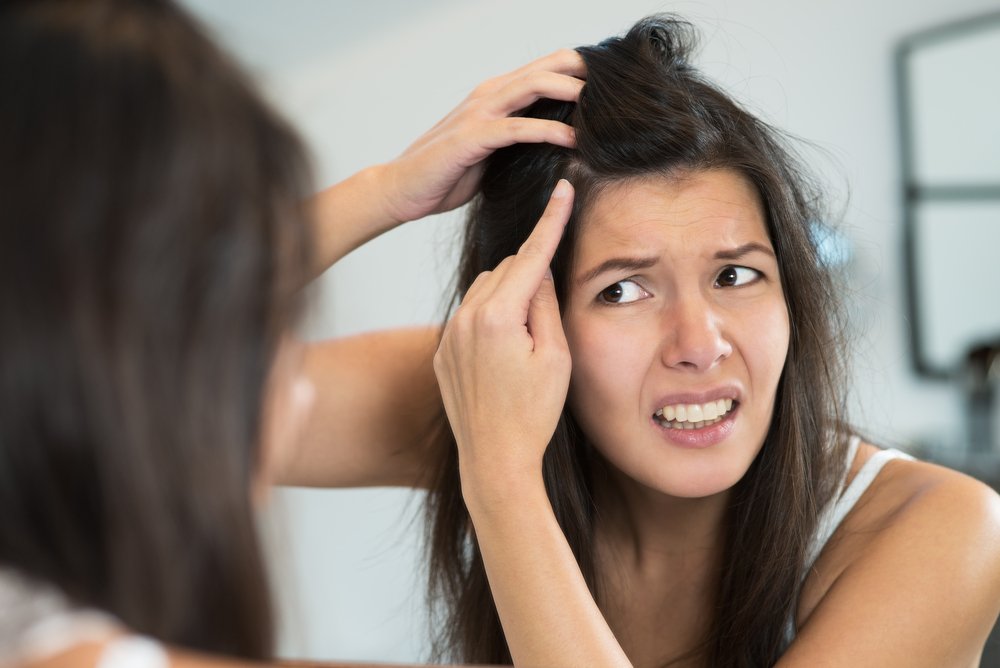 Young woman looking in the bathroom mirror at her scalp. | Source: Shutterstock
"I've always had thick hair — healthy with bouncy curls," she said. "But, a few weeks after turning vegan, it began to fall out. Not in obvious bald patches, but a definite thinning all over."
And added:
"It came out in huge amounts on a brush, and I'd "molt" all over the house, leaving me with thinner areas, especially at the front of my head, which made me self-conscious. I felt as if I looked old, but I'm only in my 20s."
NUTRITIONAL DEFICIENCIES IN VEGANISM
One of the downsides to a vegan diet is that the lack of animal proteins increases the risk of certain nutritional deficiencies. Micronutrients of particular concern for the vegan include vitamins B-12 and D, calcium, and long-chain n-3 (omega-3) fatty acids.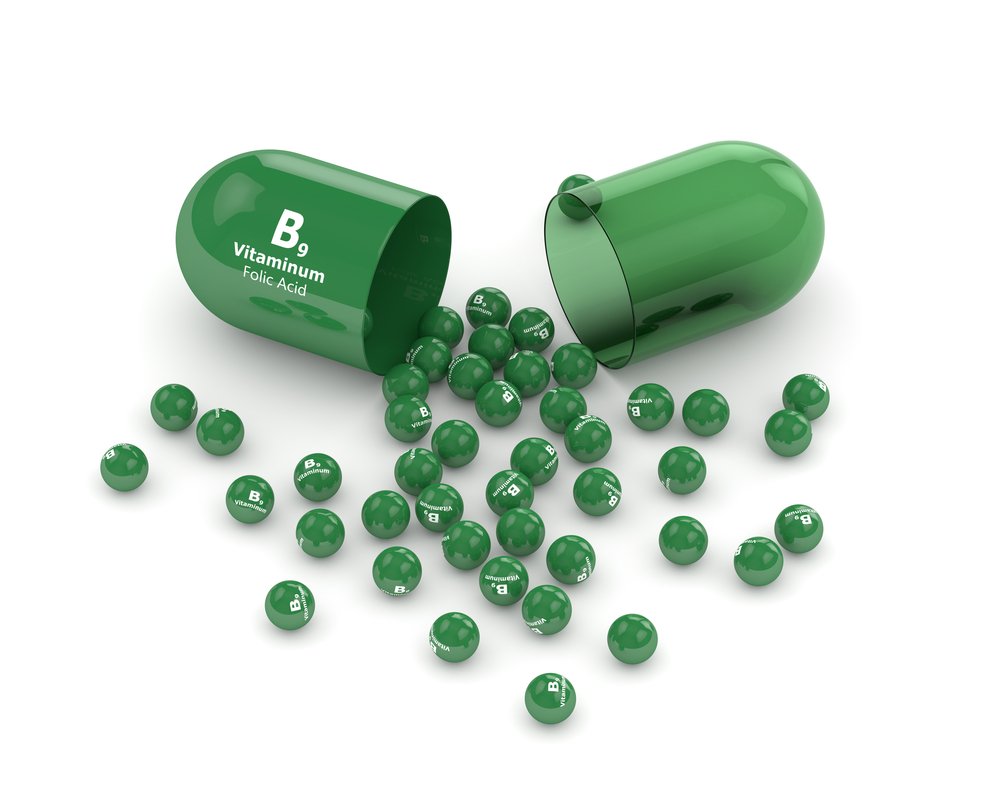 3d render of B9 folic acid pill. | Source: Shutterstock
The protein keratin is the main structural constituent of hair, and to produce Keratin, the body needs amino acids, which can be found in meat and fish. However, there are ways to acquire those proteins in a vegan diet too, from sources such as beans, lentils, chickpeas and soy alternatives to milk and yogurt.
But Jessica admitted she didn't make her best efforts to replace animal sources of amino acids.
According to Trichologist Anabel Kingsley, who has spent years studying the hair and scalp, there has been an increase of cases of hair loss among young women in the past years.
Telogen effluvium, the same type of hair loss with which Jessica Drue was diagnosed, can be the result of stress, being unwell, having a fever, or of a nutritional deficiency.
Kingsley believes the increase of the cases is, in particular, tied to the popularity of veganism and vegetarianism.
"If you're not eating enough of the correct foods or your body is not absorbing enough of the nutrients, this can result in excessive shredding," she said. "Even if you're only slightly deficient in a nutrient, the body withholds this from the hair first."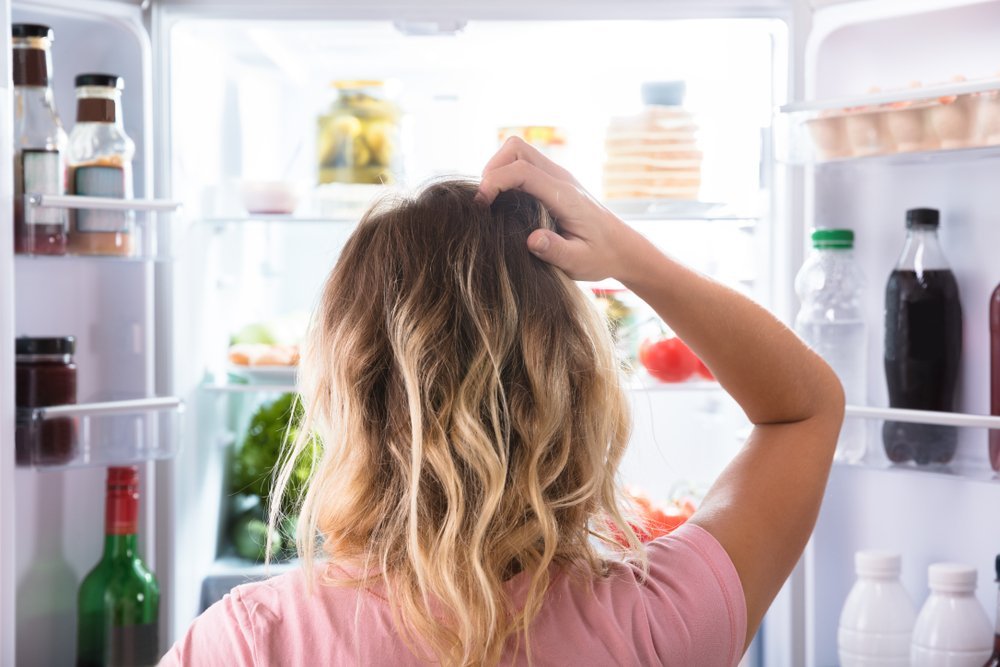 Confused Woman Looking In Open Refrigerator. | Source: Shutterstock
And added:
"Fish and eggs have all eight essential amino acids (proteins) that you need, while a grain or legume would only have a few of those. If you only get one set from a source of protein you need to get the rest from something else."
NO PERIOD
Aside from hair loss and general exhaustion, a vegan diet can also affect women in other departments.
Yovana Mendoza Ayres, a famous YouTuber who creates videos under the name Rawvana, earned a loyal fanbase from promoting a healthy raw vegan lifestyle over the past six years.
However, last month she faced backlash when she was caught eating fish in a friend's video.
Yovana was forced to address the issue in an emotional video, admitting that she had quit the vegan diet because it caused some serious health issues but explaining that despite the change, she still believes in the benefits of a vegan diet.
"I believe it because I felt it," she said.
And added:
"Six years ago, I adopted a raw vegan diet. Let food be your medicine and medicine be your food. I was able to overcome an addiction like alcoholism and smoking cigarettes."
She explained that two years ago, her period stopped. After visiting a doctor, she discovered her body was "pre-menopausal." "I felt good physically, but the numbers were wrong, and I wasn't getting my period," she said.
At the time she gave up on the raw vegan style and introduced some cooked foods into her diet. Two months later, she got her period back. But in 2017, she faced the same problem added to some other issues like vaginal candidiasis — a vaginal yeast infection — and a small intestine bacterial growth.
"I was starting to feel desperate for my health and to find a solution," Yovana admitted. "And that is when I opened up to the possibility of adding some animal product into my diet."
Six months ago, Yovana started to re-introduce fish and eggs into her diet. "I want to bring some babies into this world," she said. "I want to have a family. If I am not good then how can I expect to bring a family into this world?"
OTHER ISSUES
Some of the other issues women have tackled as the reasons for leaving a vegan diet include a gain of weight, eating disorders, compulsory restriction, lack of energy, perpetual hunger, and the lack of options when it comes to restaurants and products.
Read other testimonies from Mind Body Green below:
"Over time I began to feel perpetually tired, always hungry. I was gaining weight. I knew I needed a dietary change."

- Sherrie, St. Louis, Missouri.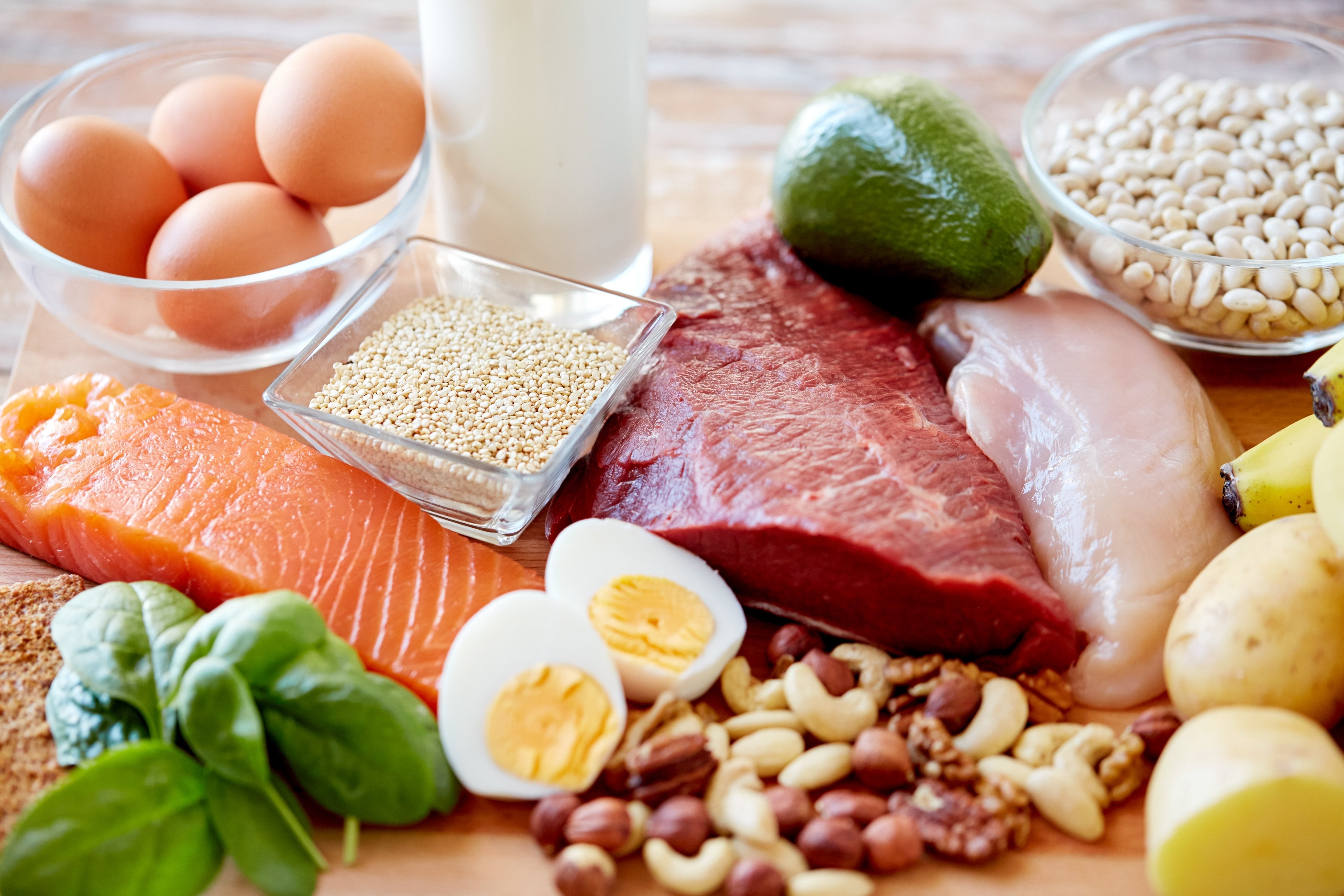 Balanced diet. | Source: Shutterstock
"I started thinking of foods as "good" and "bad," and I wasn't eating well-balanced and started spiraling into some binge-eating behavior. I needed another lifestyle change, and I decided that I could incorporate some of the main ideals of veganism while including some non-vegan foods into my diet."

- Ali, Jersey City, New Jersey.
"To say the choices are limited is an understatement. Going out to eat with anyone was a miserable experience (how much spaghetti and tomato sauce can one person eat?) I just felt overwhelmed by how miserable it was to be in what felt like a self-imposed food prison. It was then that I stopped being vegan."

- Emma, London, England.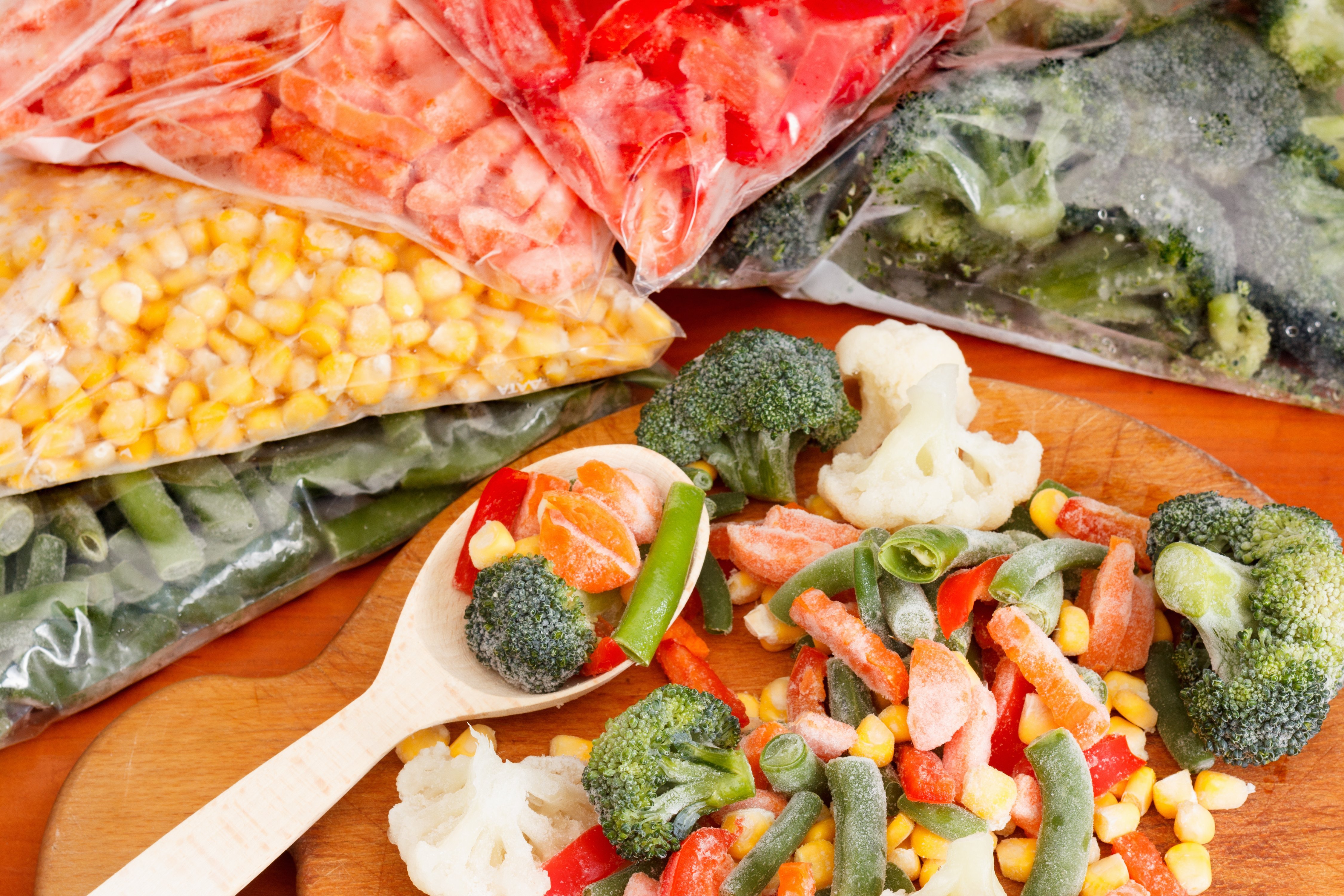 Frozen vegetables on cutting board and plastic bags. | Source: Shutterstock
"I was cold all the time, and my blood sugar was always crashing if I didn't eat every one to two hours. I SO respect anyone who is vegan for ethical reasons, but I had to listen to my body."

- Ali, San Francisco, California.
Every experience is different, and although being vegan doesn't work for everyone, there are many good reasons to try a plant-based lifestyle. After all, it's a personal experience.
Please fill in your e-mail so we can share with you our top stories!
The information in this article is not intended or implied to be a substitute for professional medical advice, diagnosis or treatment. All content, including text, and images contained on news.AmoMama.com, or available through news.AmoMama.com is for general information purposes only. news.AmoMama.com does not take responsibility for any action taken as a result of reading this article. Before undertaking any course of treatment please consult with your healthcare provider.