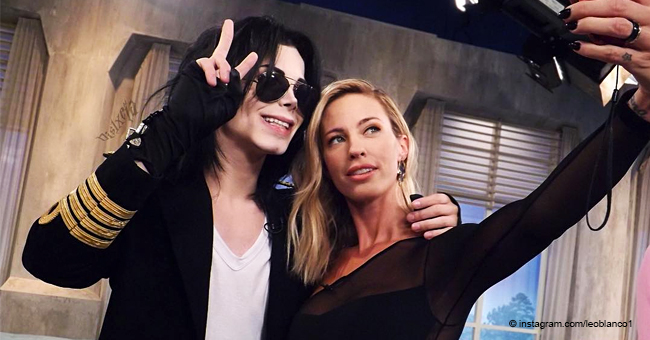 22-Year-Old Michael Jackson Fan Spent $30,000 to Transform Himself into His Idol
An Argentinian man wants to be the ultimate Michael Jackson impersonator. So far he's spent around $30,000 for surgical procedures to reach his goal.
Leo Blanco, 22, said he's been watching Michael Jackson since he was a little boy. At just 15, he started taking steps to look just like his favorite idol. The video covering his story is found below.
The King of Pop, who passed away in 2009, had pale white skin due to a condition called vitiligo. He wore his black hair straight and was known for his legendary dance moves.
Blanco has the moves and hair down, but he's still working on getting his features to be as near as possible to that of Jackson. So far, he's done 11 plastic surgeries and received several medical procedures.
The performer's story was aired by Barcroft TV. In it, Blanco showed off his looks and the recognition he receives from Jackson fans as he goes down his street.
Blanco resides in Buenos Aires, Argentina. Of course, there are Jackson fans in almost every corner of the world. In the clip, Blanco danced on a large sidewalk and took pictures with admirers before going home.
The surgery addict later arrived at his house where he spoke to his mother. While the older woman does not stop her son from fulfilling his wishes, she revealed that it's not something she's happy with.
Blanco's mother is very worried that her son will die during one of his procedures. She likens his attitude towards his surgery appointments to a hairdresser visit."
His mother also said that she's constantly surprised with her son's new look and often asks:
"Is this Leo? Is this my son?"
She asked her son why he does this to her, to which he responded, "It's your fault. If you'd have created me more beautiful, I wouldn't need to have any surgeries."
Blanco, who is fairly well-off, then showed off his yard which has a big sign that reads "Neverland," an imitation of what Jackson named his residence, Neverland Ranch.
Blanco went on to do a surgical procedure to make his jaw squarer. He said afterward that he felt numbness and swelling but already sees a desirable change.
His father, who went with him, appeared neutral about the whole thing as Blanco reassured viewers that he still has lots more procedures to undergo in order to reach his objective.
Meanwhile, another hardcore Jackson fan is now regretting some legal steps he took to show his love for the deceased singer. The Malvern, Worcestershire factory worker changed his name to that of his idol.
John Michael Jackson, formerly John Lomas, is now backtracking his decision due to the "Leaving Neverland" documentary which went into sexual abuse allegations made against Jackson.
The film was released in the UK in March 2019. That's when Lomas said he decided he had reached the end of his line and that there was "too much doubt" about Jackson to continue using his name.
Prior to the controversial film's release, Lomas said he supported Jackson "blindly for years." The legendary singer repeatedly denied the allegations presented in the HBO film before his death.
Still, Lomas is ready to let go of his childhood obsession. He opened a GoFundMe page to take donations so that he can legally change his name back. He said he just "wants a fresh start."
Meanwhile, Jackson's family members hit back at the film with their own mini-documentary addressing what was said in "Leaving Neverland." Eli Pedraza film directed the YouTube documentary titled: "Neverland Firsthand: Investigating the Michael Jackson Documentary."
In it, Brandi Jackson, the singer's niece, commented on her experience with kids who had visited the estate. She described Jackson as an "opportunist when it comes to financial gains. His niece Taj was also involved in the production.
Please fill in your e-mail so we can share with you our top stories!