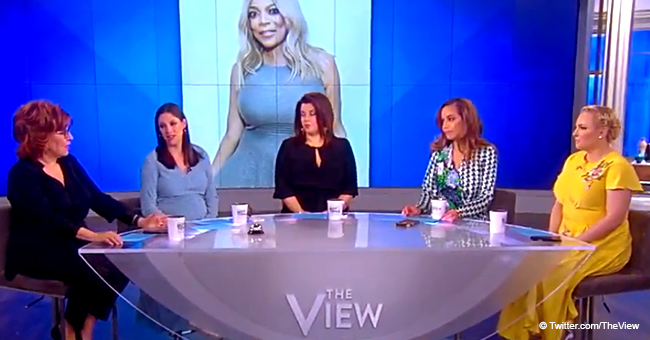 'Shame on Him!' 'The View' Co-Hosts Slam Wendy Williams' Husband Amid Cheating and Divorce Scandal
"The View" co-hosts have taken a fierce stand in favor of Wendy Williams after it was revealed that she filed for divorce from her husband following multiple infidelity allegations. The ladies had some particularly strong words for Kevin Hunter, Williams' husband.
Reactions have been trailing the announcement that Williams, 54, is divorcing her husband of over 20 years and her fellow daytime talk show hosts at ABC have chimed in to let Williams know they have her back.
After recalling how Williams revealed in her 2001 memoir that Hunter, 47, cheated on her after the birth of their son, Joy Behar added: "That's a red flag to me, hello! I think if someone cheats in the beginning, they will cheat again."
Sunny Hostin, who spoke about how "good" Williams was to her when they worked together on radio many years ago, did not attempt to tamper her annoyance at the latter's estranged spouse:
"Shame on him [Kevin Hunter]! Who is he to do all of that nonsense. I mean, really?!"
Meghan McCain also sympathized with Williams and told her point blank that she doesn't need Hunter.
"This is a woman that looks like she's in a lot of pain. I wish her nothing but love and compassion," McCain said. "Being vulnerable on TV — when she was talking about living in a halfway house, I actually cried when I watched it because I had a hard time watching it.
It's been a whirlwind of negative reports for Williams in the tabloids lately, and we're not surprised...
"She's a real talent. I wish her nothing but compassion and love, and I hope she comes back to her show better and stronger than ever. Screw that guy; she doesn't need him!" McCain added.
Hostin and Behar also advised Williams to cut off business ties with Hunter, who has been the TV diva's manager and executive producer for several years.
"You've got to rid your life of the bad people around you, and it's clear that this guy was only bad for her," Abby Huntsman chimed in. "We are rooting for you. We hope that you [Wendy Williams] come back and that you feel good."
News about Williams divorce filing and Hunter's alleged reaction broke recently following months of the TV personality's reported marital and health problems.
She took an extended medical break from her show earlier this year only to return to reports that Hunter welcomed a daughter with his alleged mistress of over ten years.
Williams, who confessed to living in a sober house while dealing with addiction, is also said to have relapsed over the news of her husband's love-child.
It's been a whirlwind of negative reports for Williams in the tabloids lately, and we're not surprised the co-hosts of "The View" are excited about her bold step.
Please fill in your e-mail so we can share with you our top stories!