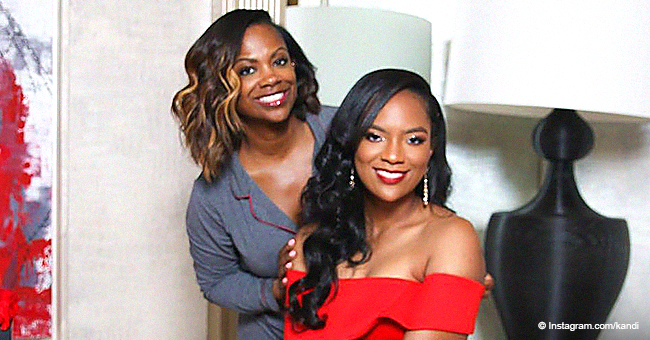 Kandi Burruss Shares Photos of Daughter Riley Looking Stunning in Red Dress on Her Prom Night
Kandi Burruss's daughter, who was rumored to be at loggerheads with her stepdad, dazzled in recent Prom Night photos shared by her mom.
The "Real Housewives Of Atlanta" star could not hide her pride as she gushed on Instagram over her 16-year-old daughter, Riley Burruss's milestone moment.
A LOOK FOR THE BOOKS
"My baby @rileyburruss looks gorgeous in red!" Kandi wrote on the social media platform, alongside a picture of the teenager's breathtaking outfit.
Riley kept things simple and classy with a red, floor-length, off-shoulder gown featuring a dramatic side slit. Her glittering Stuart Weitzman strappy sandals were customized with the letter "R," and she complemented it with a matching Jimmy Choo clutch.
KANDI'S NOT-SO-GLAMOROUS LOOK
For her hair, Riley stayed on-theme with a classy sweep to the side and soft ringlets that fell across one shoulder. The hairstyle worked well with her makeup, which stood out with heavily-lined eyes and a blazing red lip.
Kandi, ever the proud mom, could not help posing with her not-so-little princess even though she was dressed in her PJs.
She revealed in the caption:
"I look a mess in these pics but I had to get a picture with my baby @rileyburruss for her first prom! I rushed back from Thailand to make sure we were here for it. (Riley just decided a week ago that she was going)."
THUMBS-UP FROM SOCIAL MEDIA
Riley's Prom Night look turned out to be a social media hit and netizens were most impressed that she did not go overboard despite her mother's fame and riches.
"I love how it's simple and cute!" commented one fan according to Celebrity Insider. "Nowadays people be acting like it's a damn royal wedding."
HER DAUGHTER'S BIGGEST FAN
Before now, Kandi has never been one to hold back praise for her only daughter. The 42-year-old Atlanta native bought Riley a Porsche for her 16th birthday in August and was excited to announce when the teen lost a ton of weight through exercise and calorie-watching.
THE 'BLENDED FAMILY' LIFE
There were rumors last October that Riley was pressuring Kandi to buy her an apartment because she could no longer stand her stepfather, Todd Tucker, but none of the ladies addressed the reports directly, so they're probably no more than fabrications.
As far as we know, all is well in the Burruss-Tucker household. Kandi and Todd celebrated five years of marriage on April 4, and they enjoyed a Thailand getaway which the reality star documented on social media.
Kandi and Todd share a three-year-old son, Ace, while Todd also has a daughter, Kaela, from a previous relationship. The couple is also in the process of enlarging their family with talks of employing a surrogate to carry their new baby.
Please fill in your e-mail so we can share with you our top stories!