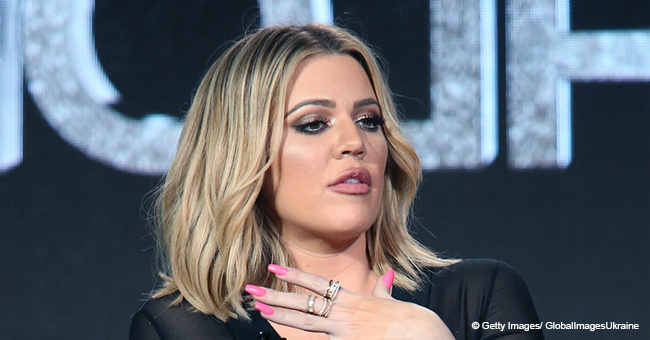 Khloé Kardashian Seems to Ignore Ex during an Awkward Reunion at Their Daughter's Birthday
Khloe Kardashian's daughter, True, turned one recently, and her famous mom pulled out all the stops to celebrate the day. The birthday celebration proved to be a perfect day for an awkward reunion between Khloe and her ex, Tristan.
In celebration of baby True's first birthday, Khloe Kardashian went all out to give her daughter a grand celebration. She left no stone untouched, with the party featuring a display of live animals, big balloons and the spell out of True's name.
In a somewhat surprising twist, Khloe's ex, Tristan was in attendance and had some time out with the reality star and their baby. The ex-lovers joined up to sing happy birthday to True, though at a distance of about six feet from each other.
An awkward moment occurred when Tristan played with his daughter while Khloe was carrying her. Many fans felt that Khloe was trying as much as possible to ignore him while he played with True and also when he tried to talk to her.
Khloe and Tristan split in February when the basketball star was found kissing Jordyn Woods, a family friend during a drunken house party at his residence. The scandal was the third in the line of cheating scandals linked with him after he was previously caught with two other women in the space of two years.
All that awkwardness did not in any way take the shine of True's birthday bash as it was all lovely and colorful. The bash took place two days after the famous baby's actual birthday, and it turned out to be worth the wait.
Highlights from the event include mom and child's matching outfits, as they posed for many photographs. There was also a massive wall of balloons, so colorful and beautiful in their array.
And then there was lots of cotton candy, ice cream pop cart, and petting zoo ponies. Baby True got in the groove as she rode a little pony, her birthday bash may have to get some beating to drop out as being probably the best for a kid.
True got some birthday wishes and messages from members of her mother's famous family. Grandma Kris Jenner, Aunts Kim Kardashian and Kylie Jenner all took turns to wish the one-year-old a happy birthday on their Instagram pages.
Here is to wish Baby True more great celebrations, she is sure to have many of them to come.
Please fill in your e-mail so we can share with you our top stories!