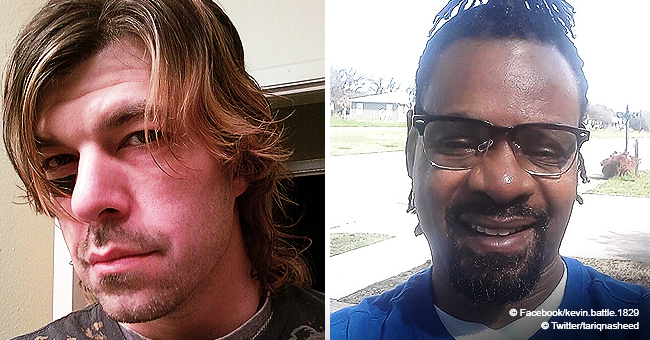 Community Outraged after Cops Decline to Arrest White Man Who Allegedly Killed Black Neighbor

The Balck community of Fort Worth, Texas, started a petition to bring a white man who shot his Black neighbor dead in front of his 5-year-old grandson to justice.
The people of Fort Worth Texas have launched a petition to bring the killer of a 57-year-old man to justice.
The community has vowed to boycott local businesses, and the Main Street Art Festival until Mark Jabben has been arrested.
"Until an arrest is made, we'll continue to be out here," Ballard continued. "We're angry and upset … We just had a man who was trying to figure out what was going on. 'What did you say to my grandchild?' That is what he was asking for."
BLACK MAN SHOT BY WHITE NEIGHBOR
The incident that left Kevin Battle dead in front of his 5-year-old grandson took place on March 25, 2019.
According to Battle's son, Jabben had used a racial slur against the child, and Battle had gone to his neighbor's door to ask for an explanation.
VICTIM'S SON WITNESSED MURDER
Battle's son who witnessed the incident, revealed that he was able to see his father from his position inside the family's duplex, but not Jabben.
According to Kevin Battle II, he saw his father talking, and then heard the two shots that killed Battle.
Battle's son revealed that a week before the shooting, Jabben had used a racial slur against his father
MARK JABBEN ALLEGES SELF-DEFENCE
Fort Worth Police have declared that the physical evidence corroborates, Jabben's version that Battle was trying to enter his apartment when he shot him.
Texas has a "stand your ground" law in which shooters can walk away free for claiming that they feared for their life, and it is this law that Jabben is shielding himself with.
MARK JABBEN HAD HISTORY OF RACIAL HATE
Battle's son revealed that a week before the shooting, Jabben had used a racial slur against his father during an altercation over noise:
"Turn that music down, Ni**er."
Battle II said that his father filed a police report at the time of the first incident, which shows a pattern of abuse on Jabben's part.
DA AGREES TO GRAND JURY HEARING
Fort Worth Police spokesman Officer James Pollozani revealed that the Tarrant County District Attorney's office had been briefed on the case, and agreed to take the it to a grand jury:
"The DA's office agreed with detectives that grand jury review is the appropriate path moving forward with the case. This is the same process and standards the Homicide Unit has followed in similar cases where self-defense claims can be corroborated by physical evidence."
The DA's office did not issue a comment on the status of the case, and the community fears that Mark Jabben will get a free pass on Kevin Battle's murder.
Please fill in your e-mail so we can share with you our top stories!