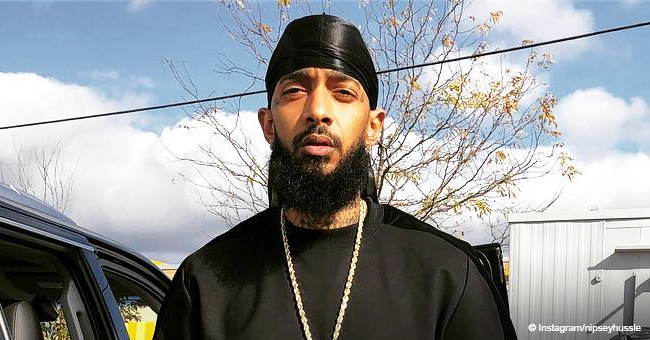 Nipsey Hussle's Daughter Emani Seems to Be in Good Spirits While Driving around Crenshaw (Video)
The late 33-year-old rapper left behind three children from different relationships, including a son with girlfriend Lauren London. Daughter Emani, 7, was recently spotted in good spirits by a group of Hussle's fans.
Emani Asghedom is the oldest daughter of rapper Nipsey Hussle (born Ermias Joseph Asghedom) and his former partner Tanisha. The mother and daughter were seen driving around Hussle's home neighborhood days after his death.
Emani was filmed as she gestured to some of her father's lyrics from the backseat of a black car, while Tanisha, dressed in black and wearing sunglasses, waved a flag with Hussle's iconic symbol on it from the passenger's seat.
"Ayee! It's so good to see #NipseyHussle's daughter #Emani in good spirits!" the clip was captioned when shared by The Shade Room on Instagram. The video has been played more than 4 million times and has many positive comments.
"God is giving her a special type of strength," actress Porsha Williams wrote. "She so beautiful omg bless her heart," Tiffany Fox added. "The kids' strength shocks me every time," said another user.
Emani hasn't received as much attention as Lauren London's son with the rapper, Kross. London having released a statement following Hussle's death and Tanisha choosing not to might have something to do with this.
Even though she was mostly kept out of the spotlight, Emani had a close relationship with Hussle, who was photographed next to her at the February 2019 Grammy Awards' red carpet.
The 'Racks In The Middle' hitmaker and two other men were shot outside his clothing store in Los Angeles on March 31. It is believed the three men were rushed to hospital but Nipsey Hussle tragically died.
According to the death certificate, Hussle was pronounced dead 35 minutes after the shooting, at 3:55 p.m.The shooting and killing of Hussle were captured by a surveillance camera, leading the authorities to the suspect Eric Holder, who allegedly shot Hussle three times and kicked his body on the ground before running away.
Tanisha once posted what can now be understood as a premonition of Hussle's violent death.
"I just had a bad dream about my child's father. Some ppl beat him up bad at a store and I saved him but they got him again. [It] had me almost in tears, I wonder what that means…" she wrote on Facebook in August 2013.
Tanisha, Emani, and Hussle can be seen together in an old photo Tanisha posted to Instagram on one of the rapper's birthdays.Tanisha, who goes by the name Chyna Hussle in the social network, recently re-posted the image in memory of her late ex.
Please fill in your e-mail so we can share with you our top stories!