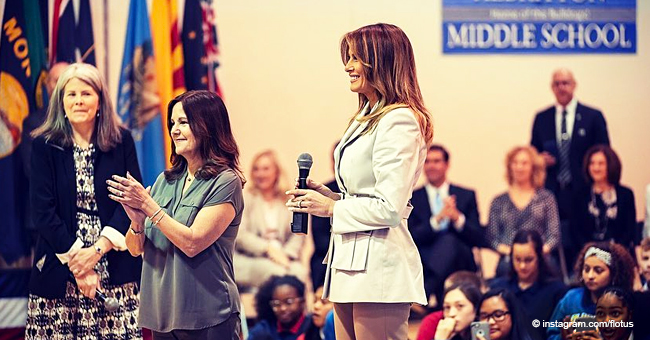 Melania Trump Reportedly Confides Becoming FLOTUS Again Would Be a 'Great Honor'
First Lady Melania Trump visited with students on Monday at Albritton Middle School in Fort Bragg, North Carolina. Accompanying her was the second lady, Karen Pence.
For the occasion, the first lady wore a military-style jacket while she answered questions about her future at the White House.
First Lady Melania Trump and second lady Karen Pence traveled together to Albritton Middle School to tour the installation, attend "the month of the military child," and to meet students. The trip was part of their focus on military families.
While there, the two women engaged with a group of 379 children who greeted them. Trump was pictured wearing a cream-colored military-style jacket as she Pence took questions for about 15 minutes.
The first lady revealed that she considered herself a mother first to her son, Barron Trump, 13. However, she clarified that she would be willing to serve again as the first lady.
She called the opportunity a "privilege" and an "honor" and stated that "I love what I do." Trump also spoke to the middle school students about her life in the White House and how she balanced being a mother and the first lady.
She explained:
"It's a balancing act and my son - our son - is still a priority. So I feel I am still a mother first. He is at an age where he needs parents for guidance."
In response to a question from a student about both women's jobs, Trump said: "We are working hard every day to keep America great." She revealed she would support President Donald Trump's re-election, as would Pence for Vice President Mike Pence.
The first lady stated:
"I think our husbands are doing a fantastic job and I would support my husband if he would run again and yes, it's a privilege, a great honor to serve."
She added:
"My favorite experience is meeting all of you, meeting people all around the country and meeting people all around the world. And shine a spotlight on children and our next generation."
Trump explained that being the first lady came with "a lot of change." She explained: "You move from the city that you leave, and you taking care of different things that you took care of before."
The first lady continued:
"But I would not change for anything. I love what I do. And what will affect I will always shine a light on children. And next generation. I'm here to spread positivity and confidence in being all of you, as you make heard, I have initiative Be Best."
She motivated the children saying:
"And I encourage all of you to be best in everything that you do, to challenge yourself to be true to yourself, and to have positive way in your life."
Trump and Pence traveled also met soldiers on the military base. Speaking to service members later about their visit, the second lady said: "It was like being with a rock star."
Fort Bragg hosts the Airborne and Army Special Operations. The first and second lady began their visit by attending a briefing about special operations capabilities, which included a tour of the base.
The last time they were together was last November when they packed care packages with the Red Cross for troops overseas.
Trump kept her look neutral for the visit with her cotton-blend drill jacket by Alexa Chung. The military details it featured were the front flap utility pockets, a belt, and a wide lapel.
It retails for about $895. The first lady completed her look with a pair of beige cigarette pants, which she previously wore while traveling in England, and Manolo Blahnik snakeskin stilettos.
Please fill in your e-mail so we can share with you our top stories!