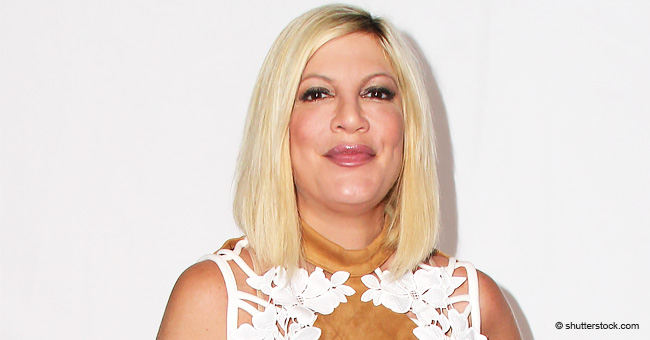 Tori Spelling Trolled for Advertizing 'Expensive' Plant-Based Milk and Water on Instagram

Tori Spelling recently posted a glowing review on the plant-based milk she uses and once again received backlash on her spending habits.
On Friday the actress explained on Instagram how she couldn't start a day without "either of these" as she held up two plant-based products produced by Mylkman.
With a bottle of Almond milk in one hand and coconut water in the other, Tori shared how she had become "obsessed" with their products and raved about the convenience as they deliver ordered products right to your doorstep.
"Doesn't get any fresher than this!" Tori wrote as she went on to list all the nutrients their products are "packed" with and referred to it as part of a "healthy lifestyle."
The actress added that even her children took to the healthy alternatives as she continued:
"Plus my kids actually started drinking Almond Mylk and Coconut Water because of @mylkman_company ... they wouldn't drink either before from other brands although this mama tried!"
While some followers expressed interest in the healthy alternatives to animal-based products, others couldn't help but comment about the price tag that comes along with its convenience.
"Also find it odd they owe so much money in back taxes & unpaid credit cards but can afford these? For a family of 7? I'm sure she's getting paid to do this," one follower commented after another fan listed that the company priced their almond milk at $17 and their coconut water at $14 a pop.
With the average cost of a gallon of milk priced at $3.50, the expensive plant-based version would cost about the same as one person's grocery bill for a week.
But Tori constantly faces scrutiny from fans on almost every single Instagram update she posts. When the mother of 5 recently posted about the "yummy and kiddo approved" muffins from a company called Little Bites, fans were not impressed as one commented:
"Cmon.. check yo labels girl! If we know better, we should do better. There is nothing healthy about these and trying to pass them off as such is a true disservice to your fans."
However, other fans had quite enough of the keyboard warriors that spread nothing but judgment and negativity as another fan slapped back, "You know what does more harm than sugar/muffins... body shaming or hurtful words. Let that soak in."
During a more recent post, Tori posted adorable pictures of her youngest child, Beau as he celebrated his first time enjoying the snow.
In anticipation of comments by trolls, she made sure there was no room for backlash with the caption she included along with the adorable pictures of her recently turned two-year-old son.
Please fill in your e-mail so we can share with you our top stories!