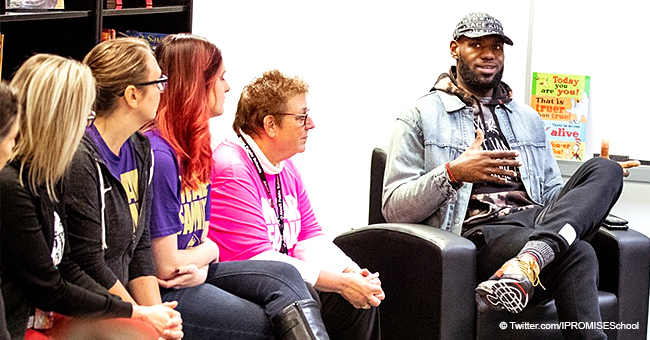 LeBron James' I Promise School Achieves 'Extraordinary' Results
The students of the Promise School opened by LeBron James last year scored incredibly well on recent tests. They were congratulated by former President Barack Obama and his wife.
The professional basketball player opened the school in July of 2018 and the over 240 students just underwent the Measures of Academic Progress assessment according to the New York Times.
The results were deemed "extraordinary" by one authority of Akron Public Schools, Keith Liechty. The third and fourth graders, at first deemed "the worst performers in Akron public schools and branded with behavioral problems," surpassed expectations.
According to the newspaper, 90 percent of the pupils "met or exceeded" the reading and math goals, scoring "in the 99th growth percentile of the evaluation association's school norms."
The students performed better than about 70 percent of other Akron district students. Promise School's students showed a significant improvement that would not be seen in 99 out of 100 schools nationwide.
Fox News reported James' comments on the students' performance. He said:
"These kids are doing an unbelievable job, better than we all expected. When we first started, people knew I was opening a school for kids. Now people are going to really understand the lack of education they had before they came to our school. People are going to finally understand what goes on behind our doors."
The kids celebrated their achievements by playing music and enjoying a breakfast buffet on Monday. Last year, James founded the public school in his hometown Ohio by contributing around $600,000 through his foundation.
The money takes care of expenses like the resource center, a G.E.D-testing program, employment, health, and legal services for parents, and even a barbershop. The state budgets another $2 million towards the school.
Both Barack and Michelle Obama sent out congratulatory tweets towards the school. Barack also commended James for his part in making the change.
Although the kids did well and deserve tons of praise, Liechty is cautious and attempted to be realistic for the future.
He explained:
"It's encouraging to see growth, but by no means are we out of the woods. The goal is for these students to be at grade level, and we're not there yet. This just tells us we're going in the right direction."
He did admit though that "for the average student, your percentile doesn't move that much unless something extraordinary is happening." The school is hoping to take in another 120 students next year and add another grade level.
The executive director of the LeBron James Family Foundation, Michele Campbell, revealed that the "secret sauce" of the school's success was the attention given to parents.
During a tour, she pointed out a room with "bins of clothing and shelves of peanut butter, jelly and Cheerios" that parents are free to dive in and take whenever they're in need.
Speaking of the student body, she said:
"These were the children where you went and talked with their old teachers, and they said, 'This will never work.' We said give them to us."
The low-income families that make up the school consist of 60 percent black students, 29 percent special education pupils and 15 percent English-language learners.
James was praised last year by none other than the first lady of the United States, Melania Trump, for his work in the community. The first lady's words came soon after her husband Donald Trump insulted the NBA superstar.
CNN's Don Lemon interviewed James which resulted in a tweet from Donald saying "Lebron James was just interviewed by the dumbest man on television, Don Lemon. He made Lebron [sic] look smart, which isn't easy to do."
However, his wife Melania instead focused on the assistance James was providing to the kids and said he is "working to do good things." Melania has been advocating for the betterment of children's lives mostly through anti-bullying campaigns.
She said she would be "open to visiting" James' school despite her husband's apparent dislike for the Los Angeles Lakers player. After seeing how well the kids did, we hope she makes the visit.
Please fill in your e-mail so we can share with you our top stories!