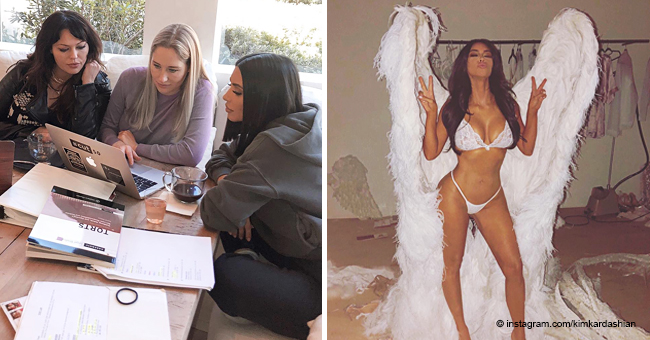 Kim Kardashian Slams Trolls Who Mock Her Decision to Become a Lawyer
Kim Kardashian West wrote a long post on Instagram revealing what studying the law has been like for her, including hearing comments about those criticizing her chosen path.
From an epic reality show stardom to a venture in the legal field, Kim Kardashian West's unconventional path to pursue her law dream is lambasted by trolls. The reality show star took it to Instagram to share her sentiments concerning comments ridiculing her chosen path.
"I've seen some comments from people who are saying it's my privilege or my money that got me here, but that's not the case," she expressed on her post.
"One person actually said I should 'stay in my lane.' I want people to understand that there is nothing that should limit your pursuit of your dreams, and the accomplishment of new goals. You can create your own lanes, just as I am."
The beauty mogul turned aspiring lawyer highlights that, while her undertaking is different from attending Law school, it equally demands effort. She mentioned that:
"For the next 4 years, a minimum of 18 hours a week is required, I will take written and multiple choice tests monthly. As my first year is almost coming to an end I am preparing for the baby bar, a mini version of the bar, which is required when studying law this way."
Most critics have capitalized their comments on the star's uncustomary way of studying the law. However, the said process is legally recognized by four states, one of them being California, with which Kardashian West is registered.
"The state bar doesn't care who you are," she wrote.
"Everyone can take this route if you live in a state where this is allowed."
Furthermore, the 38-year-old mom reassured her followers that despite her busy schedule studying the law, she still fulfills her duty as a mother.
"For anyone assuming this is the easy way out, it's not. My weekends are spent away from my kids while I read and study. I work all day, put my kids to bed and spend my nights studying," she said.
Her response went out to those who did not understand her decision to have greater ambition. Radar Online reported a person commenting on Kardashian West's dream, saying:
"Why make a mockery of the hard work, diligence, respectability and INTELLIGENCE it takes to be a lawyer? You can have ambition, but not too much. Please stay in your lane."
Because of the front the reality star has put up on camera, people paint her to be someone who associates herself with make-up, glamour, and a ton of drama, without seeing the side of her that can be brilliant and determined in a professional field.
What sparked the idea inside the mind of the beauty mogul was when she helped on the case of Alice Marie Johnson, and later successfully freed her from a life sentence.
"The White House called me to advise to help change the system of clemency, and I'm sitting in the Roosevelt Room with, like, a judge who had sentenced criminals and a lot of really powerful people and I just sat there, like, Oh, [expletive]. I need to know more," she told Vogue.
"I just felt like I wanted to be able to fight for people who have paid their dues to society. I just felt like the system could be so different, and I wanted to fight to fix it, and if I knew more, I could do more."
In a positive light, at least Kardashian West is doing something to make a better America, as opposed to doing nothing at all.
Please fill in your e-mail so we can share with you our top stories!