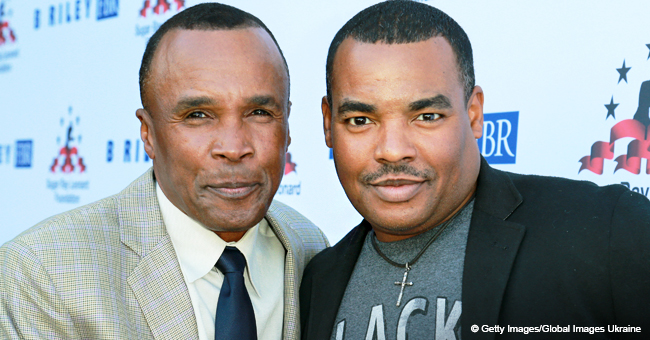 Remember '80s Boxing Legend Sugar Ray Leonard? His Son Once Shared Dad Was Far from a Good Husband

Ray Leonard Jr., the son of boxing legend Sugar Ray Leonard, opened up about his family's legacy of domestic violence.
Fans of boxing legend Sugar Ray Leonard will remember the devastating toll his fists took on his opponents.
But those fists didn't just rack up knockouts in the ring. They shattered his family and left lasting emotional scars on his son, Ray Leonard Jr., 44.
"She was saying 'Ray [Jr.] don't…don't leave…don't leave, and then I got back upstairs and her head's bloody and…I screamed at him and he left."
RAY LEONARD JR.'S HORRIFIC CHILDHOOD MEMORIES
Ray admits that to this day he struggles to come to terms with the violence he witnessed in his home as a child.
He has confessed to feelings of guilt for not doing more to stop Sugar Ray hitting his mother, Juanita Wilkinson, and recounts seeing the boxer beat her until "head was bloody."
FAME, ALCOHOL, AND DRUGS FUELED DOMESTIC VIOLENCE
Ray Jr, revealed that his father's growing fame placed pressure on the family. As Sugar Ray's star rose, the boxer started drinking more and more and taking out his anger on his wife.
Ray Jr hopes that his famous father, who has been sober since 2006, will one day join him on his domestic violence forums
WORKING TO RAISE AWARENESS OF DOMESTIC VIOLENCE
Ray Jr. reveals that he still has difficulty dealing with his memories of violence, and works with other Black men to help them come to terms with domestic violence issues in the community:
"It's still overwhelming that you know…I can't believe it still bothers me to this day. I try to put on this outward appearance of this strong guy."
SUGAR RAY LEONARD'S ADMITTED TO DOMESTIC VIOLENCE
Domestic violence is a silent crime, but during his divorce from Ray Jr's mother, Sugar Ray openly admitted to his wrongdoing:
"I can never erase the pain or the scars I have made through my stupidity, my selfishness. All I can do is say I'm sorry, but that is not enough."
Ray Jr hopes that his famous father, who has been sober since 2006, will one day join him on his domestic violence forums to help other men own up to their problems and start the healing process for their families.
BOXER KILLED BY BATTERED WIFE
Like Sugar Ray Leonard, boxer Ernest Mateen threw his punches at home, as well as the ring.
He was married to Kia "Babydoll" Jeffries, the lead singer from the 1990's band 4Kast for 14 years before she shot him during a domestic violence incident.
On November 6, 2012, Jeffries shot Mateen who was beating her, but it wasn't enough to stop him.
After he was shot, he continued hitting Jeffries, and Police found them both near death. Jeffries fortunately recovered, but Mateen succumbed to his gunshot wound. Jeffries was not charged with Mateen's death, and it was ruled self defense.
Please fill in your e-mail so we can share with you our top stories!