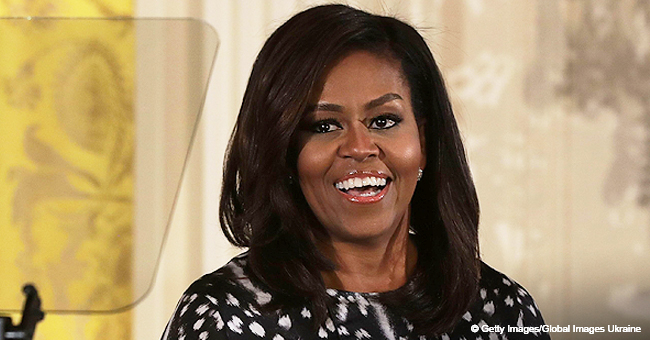 Michelle Obama Gives Stinging Remarks as She Assessed Trump and the State of American Politics
During her latest tour to promote her memoir "Becoming" former First Lady Michelle Obama made an unflattering allusion to US President Donald Trump.
Michelle Obama has come under fire for an unfortunate comparison she made, holding President Donald Trump as a negative example.
The former First Lady commented on the Trump administration during an interview in London on her European book tour for her memoir, "Becoming."
"The presidency does not change who you are, it reveals who you are."
MICHELLE OBAMA LASHES OUT AT DONALD TRUMP
Michelle took several pot-shots at Trump for his unorthodox Presidency, his slew of indictments, and the growing racial tension in the country.
She compared the Trump presidency to the experience a child from a broken marriage goes through:
"Sometimes you spend the weekend with divorced dad. That feels like fun but then you get sick. That is what America is going through. We are living with divorced dad."
ANGER GREETED MICHELLE OBAMAS ANALOGY
The former First Lady tongue-in-cheek comparison angered many men, who pointed out that divorced dads are responsible and effective parents who take good care of their children, sick or healthy.
Michelle, who has never hidden her distaste for Trump, spoke openly about her views on the current president
MICHELLE OBAMA ADDRESSES TRUMP IN HER MEMOIR
Michelle, who has never hidden her distaste for Trump, spoke openly about her views on the current president, his administration and his policies in her best selling memoir.
MICHELLE OBAMA IS ANXIOUS FOR AMERICA
Michelle revealed that she is anxious over the current situation in the US, but she believes that the country is going through a transition that wil bring positive outcomes:
"This may feel like a dark chapter but any story has its highs and lows but it continues. Yes, we are in a low but we have been lower. We have had tougher times, we have had more to fear. We have lived through slavery, the Holocaust and segregation."
Michelle, who has been constantly compared to the current First Lady Melania Trump, is considered one of the most influentia and popular women in the world.
MICHELLE OBAMA "BECOMES" BEST SELLING MEMOIRIST EVER
Michelle Obama's memoir "Becoming" is a runaway success, and is on the verge of becoming the best-selling memoir of all time.
"Becoming" was lauched in November 2018 and made history by selling 725,000 copies in the U.S. and Canada on its first day.
Within a week, "Becoming" was the bestselling memoir by a First Lady, outselling Hilary Clinton's "Hard Choices."
Michelle Obama is currently on an European book tour will take her to six countries, where her memoir topping the best-seller charts..
Please fill in your e-mail so we can share with you our top stories!