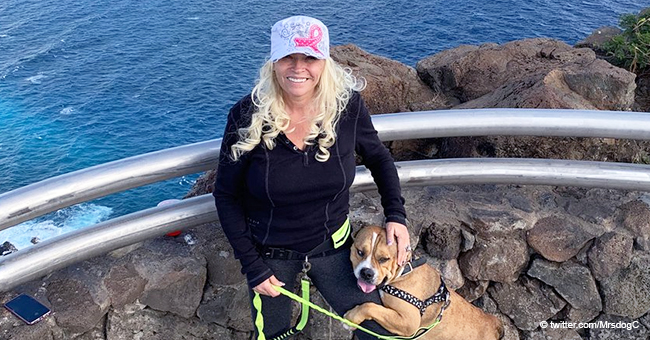 Beth Chapman's Shares Her 'Personal Accomplishment' Amid Cancer Battle (Photo)
Beth Chapman continues to show fantastic resilience despite her fight with cancer. The reality star has shown amazing strength and courage ever since she was diagnosed with throat cancer in 2017.
On Monday, Dog the Bounty Hunter's wife shared a fascinating snapshot of her and her dog while she tweeted her latest achievement; Chapman hiked Hawaii's Makapu'u point successfully.
She wrote, while adding that she considered it a "personal achievement" to keep up with her hobbies:
"Hiked Makapuu with #dukekahanahughmakamakaoflola this morning; boy did that feel good to make it to the top without any problems,"
The 57-year-old celebrity included as she drove home her point,
"#fvckcancer."
Ten days ago, reports revealed that Beth was taken to the hospital after she suffered breathing difficulty.
In a statement released on her husband's Facebook page, Beth had to undergo immediate treatments as a result of a build-up of fluids in her lungs which is the cause of her breathing problems. The statement read:
"Beth was hospitalized Saturday due to an accumulation of fluid in her lungs. Doctors performed an emergency procedure to alleviate the pressure that had built up. She is now at home resting with her husband. She and [husband Duane 'Dog' Chapman] are so grateful for the thoughts and prayers from their fans. Keep them coming."
Beth's dotting husband can be referred to as the best kind of partner anyone can have as the star of their eponymous show, "Dog the Bounty Hunter," continues to stand by her in these trying times. Duane "Dog" Chapman has shown absolute love and exceptional support for his ailing wife.
Speaking in an interview, Duane revealed an emotional moment as he spoke on Beth's state of health. The reality star said:
"I don't listen to the bad news. I don't want to hear it. I pray a lot, anywhere. I cry all the time… I constantly ask God to heal my honey and make sure He takes care of it,"
Beth Chapman was diagnosed with stage 2 throat cancer which was promptly treated, but the cancerous growth returned fully in 2018 as it spread to her lungs. Despite the unpleasant development, the Chapmans have refused to relent in their fight against cancer as both husband and wife keep drawing strength from one another.
The couple is said to be preparing for the upcoming WGN reality show, "Dog's Most Wanted" where the duo will perform their jobs of nabbing fugitives that escaped custody.
Please fill in your e-mail so we can share with you our top stories!