Photo of Man and Girl in Front of Notre Dame Moments before the Fire Goes Viral
A woman who was near the Notre Dame Cathedral before it caught fire and captured a lovely image of a man playing with a little girl with the building as the backdrop.
She took to Twitter with the picture as she searched for the man and child in it hoping to share it with them.
Brooke Windsor took to Twitter on Monday revealing that she was looking for the man and child who appeared in an image she took in front of the Notre Dame Cathedral. In the photo, the man was seen happily swinging a little girl in front of the Paris landmark.
@ everyone in my dm's:
-I do not know for sure if it was a dad and daughter, it's simply the dynamic I observed from them while debating on interrupting this moment. It may be an uncle, brother, friend, who knows until we find them.
-It was taken at 5:57 local time
(1/?)

— Brooke Windsor (@brookeawindsor) April 16, 2019
She also revealed that the picture was taken just one hour before the 850-year erupted in flames. Windsor wrote: "I took this photo as we were leaving #NotreDame about an hour before it caught on fire."
She added: "I almost went up to the dad and asked if he wanted it. Now I wish I had. Twitter if you have any magic, help him find this." The post was retweeted more than 212,000 times and liked more than 443,000 times.
-No, I have not been able to find the folks in the photo but I am hopeful. Twitter sure knows how to step up 🤗
-Yes, you may share this photo as you wish. Help us find the man and child 💕

— Brooke Windsor (@brookeawindsor) April 16, 2019
The cathedral was aflame on Monday evening and destroyed the roof of the building and its spire. The cause of the fire is still under investigation, however, it's believed that the blaze was "potentially linked" to the building's construction.
The church had been undergoing a $6.8 million renovation. Observers stood on the streets, with many in tears as they watched firefighters battle the inferno.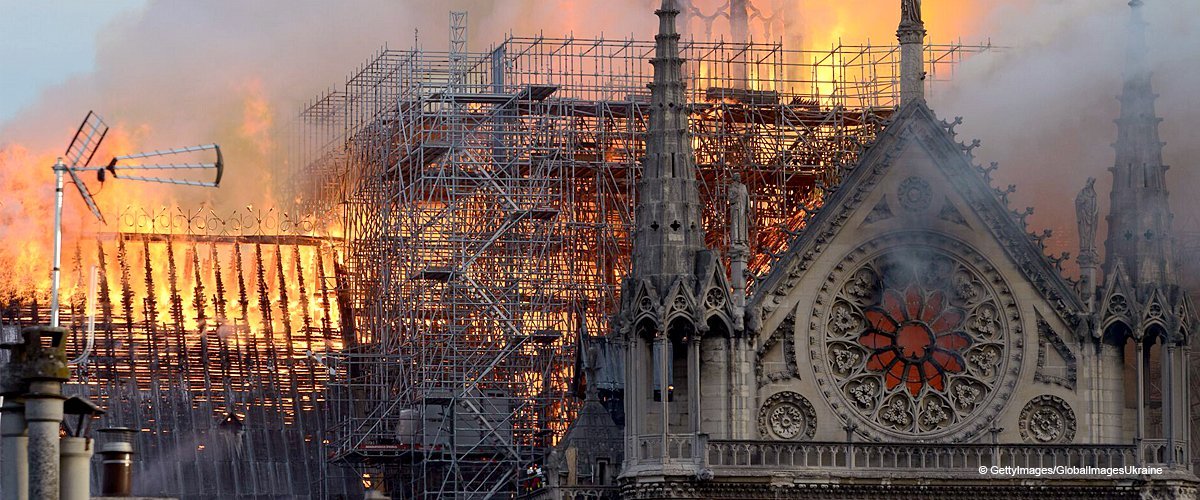 Later on Monday, it was revealed that the cathedral's main structure was "saved and preserved." French President Emmanuel Macron spoke to the nation through a televised screening outside of the building that same evening.
He promised to rebuild the historic structure saying:
"The worst has been avoided, but the battle isn't fully won yet. It is with pride I tell you tonight we will rebuild this cathedral … we will rebuild Notre Dame because it is what the French expect of us, it is what our history deserves, it is, in the deepest sense, our destiny."
On Tuesday it was noted that a number of major artifacts were saved from the blaze. In a tweet, Paris Mayor Anne Hidalgo shared that the Crown of Thorns, the Tunic of Saint Louis, and "several other major works are now in a safe place."
The church's 18th-century organ and a famous statue of the Virgin Mary inside also appeared to be safe. An official said it would probably take at least three years before members of the public can visit the cathedral again.
Mother claims she's spotted Jesus in flames of Notre Dame cathedral.https://t.co/73YwVdH69a pic.twitter.com/1cp1EOAKEs

— LADbible (@ladbible) April 17, 2019
Lesley Rowan, 38, from Alexandria in West Dunbartonshire, Scotland, took to Facebook to share that she thought she saw the silhouette of Jesus Christ in one image of the burning cathedral. She wrote: "I may be letting my mind play tricks on me here, folks take a close look at this picture and what do you see."
People were divided on the image with some agreeing with Rowan while others thought nothing of it.