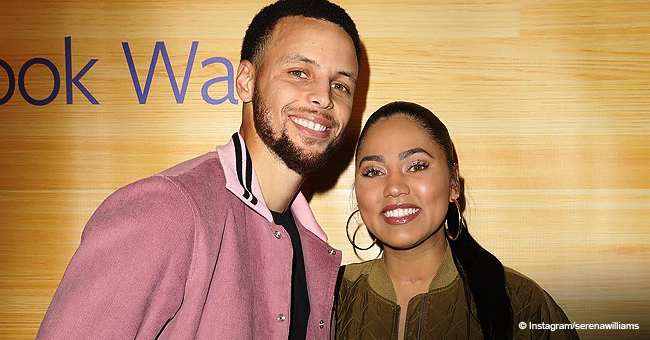 Steph & Ayesha Curry's Son Canon Shows His Swag at 9 Months (Photo)

Ayesha Curry is killing her fans with cuteness as she posts several pictures of her nine-month-old baby boy.
The wife of famous basketball player Stephen (Steph) Curry took to Instagram on Wednesday night to share four pictures of their adorable little boy, Canon.
We're not sure if the little one was on an actual golf course, but there was definitely a gold theme for the sweet photo shoot. The posts are found below.
Canon wore a grey polo shirt from Under Armour brand, with matching pants and a grey Under Armour hat. He had on a tiny pair of sneakers and looked up at the camera with what looked like green eyes.
In one pic, the tot held a golf club in one of his pudgy hands as he gave an open-mouthed toothless smile.
Ayesha wrote in the caption:
"And then... my heart melted. What a dream. needless to say, daddy is verrrrrry excited."
She posted another picture this time with Canon wearing his hat backward and looking more tight-lipped. "And the backwards hat swag?" Ayesha wrote. She pleaded, "Just don't start walking yet, okay?"
The cookbook author and television personality then shared a photo featuring her husband. The father-son duo sat on a swing and Steph looked down at his smiling son.
"Look at my man and my lil man!!! @stephencurry30 you're the best dada. Like for real."
Ayesha, 30, and Steph, 31, also share daughters Riley and Ryan. In October 2018, they explained why they chose the name Canon for their first son. It was actually a name they had in mind since their first pregnancy.
The couple considered picking up the family tradition from Ayesha's side and nicknaming their son Trey, but the former "Ayesha's Homemade" host already has "four or five people in her family who are named Trey."
Steph said he "wanted to have something special" and that "Canon just stuck." He took his grandfather's name to create the full name Canon Wardell Jack Curry.
The meaning of Canon is "officiant of the church" and "young wolf," both desirable qualities for the Golden State Warriors star. Of course, the little one also looks a lot like his dad.
A picture shared when Steph took Canon to his first basketball game showed just how much the man and the little man look alike. The proud father held up his baby boy and their green eyes were shone through.
Later on, ESPN shared a video of another time little Canon attended one of his dad's games. His grandfather, Steph's dad, also came along and was put on grandpa duties for a while.
Two months ago, the couple did a full family shoot for the cover of Parents Magazine. A gorgeous spread featured all members of the beautiful family in a post shared by Ayesha.
The magazine shared another photo from back in 2016 when the family of four at the time did their first shoot. They also gave followers a behind the scenes look of the process for the recent shoots and it was a fun watch.
All three kids were adorable but the two big girls certainly loved moving about and were filled with energy. Despite the extremely active girls, the studio still managed to capture amazing snaps.
Please fill in your e-mail so we can share with you our top stories!