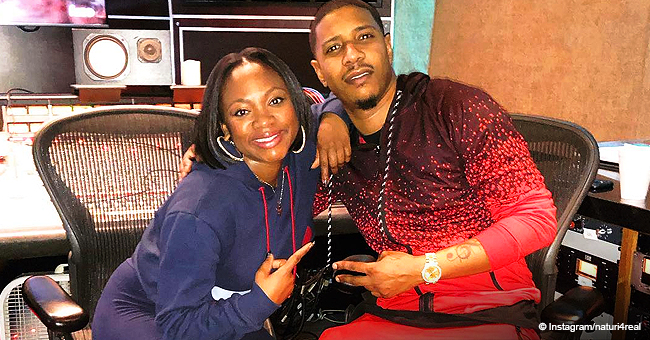 Naturi Naughton to Release New Music after '3LW' Split Drama

Naturi Naughton can't wait to share her musical talents with the world once again as she returns to singing. She first appeared in entertainment as part of the group 3LW before leaving in a bitter split.
Naughton, 34, shared a photo of herself alongside producer Eric Hudson. She announced the big news to her followers in the post which is found below.
In the picture, Naughton and Hudson sat down in what appeared to be a studio. The "Power" star wore a navy blue tracksuit outfit with black sneakers.
The caption read:
"Blessed [to] be working with my AMAZINGLY talented friend @ehudsonmusic. We grew up in Jersey at #NewHopeBaptistChurch together and NOW, 20 years later, we making HITS!!!"
Naughton and Hudson grew up together in East Orange, New Jersey. The successful producer has worked with other stars such as Kendrick Lamar, Brandy, 50 Cent, and Mary J Blige.
Another picture she shared was captioned: "Coming Soon! Making magic with the crew."
Naughton left the 3LW girl group years ago after she fell out with the two other members of the group, Kiely Williams and Adrienne Houghton. Back in 2002, she opened up to MTV about what happened.
"There was an argument between me and Michelle [Williams, manager]. And Kiely and Adrienne are cursing me out, and before I know it, Kiely throws her plate of food all in my face — mashed potatoes, macaroni all in my hair, down my clothes, messing up my [hair]do!"
Naughton said that that's when she had enough. Leading up to the incident, she claimed that management was already trying to figure out a way to get her removed from the group.
Houghton revealed that she later apologized to Naughton in private for whatever happened on that fateful night. Appearing on "The Real" in 2017, Houghton spoke about a night when she and Naughton talked it out.
In response, Naughton thanked her for her apology and said they "have to love and support each other." They both agreed that they were just kids at the time and very fearful of those in charge of the group.
Houghton was praised for her apology. Then in March 2019, she received criticism for her rendition of the National Anthem at NASCAR's Auto Club 400 race. It had been a long time since Houghton showed off her vocal abilities, and to many, it showed.
Sadly, fans were extremely disappointed by the performance. Most expressed their criticism in a loving way while there were a lot of negative comments as well.
Houghton did the best she could for being out of practice and for the most part, it's understandable that she faltered. Regardless, we hope that both she and Naughton are able to continue succeeding in their multi-dimensional fields of talent.
Please fill in your e-mail so we can share with you our top stories!