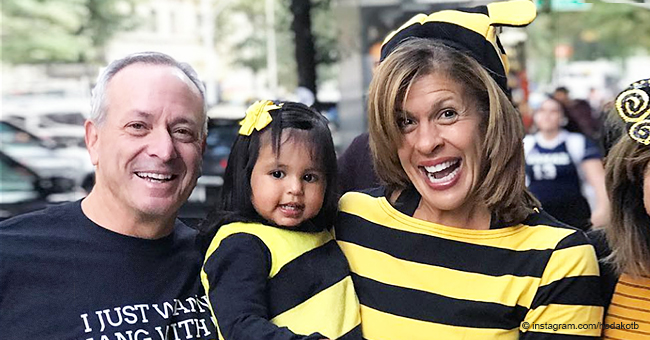 Hoda Kotb and Longtime Boyfriend Are Still Not Married, and Here's Why
The journalist, TV host and children's book author and her boyfriend, financier Joel Schiffman, have been happily together since 2013 and are parents of two girls. But why haven't they married yet?
54-year-old Hoda Kotb and her partner of six years, 61-year-old Joel Schiffman love each other and they agree in the two things that matter most for them: they are going to spend the rest of their lives together raising a family.
The question of whether or not taking the step to become husband and wife seems to be secondary for this couple, but it has become a sort of obsession for celebrity news outlets, and this has only increased since the two became parents in 2017.
"I've gone down that road once, so I would've normally said definitely not. So the fact that I'm saying I don't know is saying something."
Kotb has never given a straight answer when asked about possible wedding plans between Schiffman and her in her many appearances on talk shows and late night interviews, so all we can do is read between lines on what she has said about this.
Let's start with what Kotb told Entertainment Weekly in 2018, a year after the couple adopted their first daughter, Haley, who is already 2.
ENTERTAINMENT WEEKLY
When she was asked to give more details about the marriage she was allegedly teasing about for some time, this is what she replied clarifying, "I have never teased a marriage."
Having said that, Kotb went on to share: "He will be with me the rest of my life, I have no doubt. He is an unbelievable father to Haley."
E! NEWS
Kotb, who was once married for three years until her 2008 divorce, seems to be more interested in the quality of her loving relationship with Schiffman and in being the best mother to her two daughters than in signing a piece of paper to "make things official."
One of the few times when Kotb hinted that she and Schiffman didn't discard the possibility of tying the knot someday was when she was interviewed by E! News' Zuri Hall in 2016.
"I've gone down that road once, so I would've normally said definitely not. So the fact that I'm saying I don't know is saying something," Kotb said then.
She explained that her biggest concern before meeting Schiffman was falling in love, which she considered to be a great risk, but once she fell for him and found out what a great man he is, she was delighted.
"My last risky move, and I don't call it a risky move anymore, was falling in love," There is something about the later-in-life portion of the program. You meet someone and you think to yourself, Wow, I didn't know I could feel like this at my age."
-Hoda Kobt, E! News, January 7, 2019.
WATCH WHAT HAPPENS LIVE WITH ANDY COHEN
On September 2018, when Kotb appeared on "Watch What Happens Live with Andy Cohen," she was asked by a viewer about her plans to get married.
She dodged the question once again by focusing on what really matters. "I love Joel. I mean, I'm going to be with Joel until my last breath — I know that," she said.
Cohen immediately took cue from Kotb and asked her if she was going to pull a "Goldie and Kurt," in reference to Goldie Hawn and Kurt Russell, who have been inseparable for over 35 years despite never marrying.
In response, Kobt gave the biggest hint about possibly never marrying Schiffman. "Yeah, I think we might. I kind of like their vibe, don't you think?"
THE WENDY WILLIAMS SHOW
If Kotb ever doubted about Schiffman's love for her and his commitment to their relationship and family, she got all the confirmation she needed when they first discussed adopting a child.
"I always wanted to have a child, and I wondered if Joel did, too. I went to Joel and I said to him, 'I need to discuss something with you and it's really important,'" Kotb told Wendy Williams
"I said, 'And I want you to not answer me now. I want you to marinate, I want you to take a week ... take as long as you need.' He said, 'I don't need a minute,'" she recalled.
After such a demonstration of love, empathy, and understanding from Schiffman, the question of "putting a ring on it" is secondary.
ADOPTING A SECOND DAUGHTER
Nowadays, Kobt and Schiffman seem to be as happy as they can be, after breaking the news of the adoption of their second daughter, named Hope Catherine Kotb.
"I'm feeding her, and I can't believe it. I'm so happy she's here!" a very touched Kotb shared with her "Today" co-hosts when she revealed the news to them and the entire world.
Kathie Lee Gifford, who had left the show days prior to the announcement, after more than 10 years working close to Kotb in their joint segment, was among the personalities that addressed the news with great joy.
"Hoda's a momma again. I'm thrilled about that. I knew that was coming, I just didn't know when it was coming," the 65-year-old said.
In conclusion, whether there is a wedding or not, the Hoda and Joel's journey is just beginning, and we wish them the best of the adventures as they get old together and see their daughters grow up in a happy home.
Please fill in your e-mail so we can share with you our top stories!