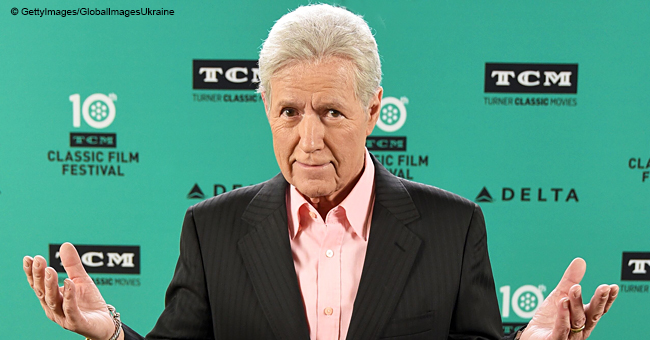 Alex Trebek's Fans Wish He Would 'Kick Cancer Right in Its Daily Doubles' after New Health Update

Trebek shocked fans when he announced that he had pancreatic cancer. Fans have taken to every social media platform to encourage and show their support for him.
Trebek is perhaps most recognized for his seemingly permanent job as the host of one of America's most famous TV game show, "Jeopardy." Via Twitter, the "Jeopardy" team shared a new update on April 17 as the 35th season comes to a close.
The post only reads "That's a wrap!" but some fans read a lot into their words and expressed fear for Trebek's place hosting the show.
A @shelbs2032 replied saying:
"We have to protect Alex at all costs."
Another @PiscesChikk said:
"Don't do that man. Change the caption or something. I thought y'all were announcing he died man. Don't do that!"
Trebek has had numerous health scares in the past, and suffered mild heart attacks in the past. This new update about his health, however, tops it all as he battles stage four pancreatic cancer. Fans have taken to various social media platforms to send prayers and words of strength to the widely-acclaimed star.
A Twitter user, @dansbadtweets, wrote:
"Kick cancer right in its Daily Doubles, Alex!!!!"
Trebek sent a hopeful message out to his fans when he assured them that he would be back for a new season! The TV personality did this in a short video clip he released to commemorate the end of filming for the game show's 35th season.
Trebek's described his illness as a surprise he could never have predicted happening and also said:
"I've always tried to be straight with you, and I'm not going to stop now, so despite what you may have heard, I'm feeling good. I'm continuing with my therapy and we – by we, the staff – are already working on our next season. So I look forward to seeing you once again in September with all kinds of good stuff."
Trebek has enjoyed a very successful career when it comes to the TV business. His excellent job hosting "Jeopardy" with so much entertaining fun has earned him many other hosting jobs. However, hosting "Jeopardy" for decades has been his most recognized role so far. Reports have it that he makes some $10 million a week, for only two days of work every week!
Please fill in your e-mail so we can share with you our top stories!