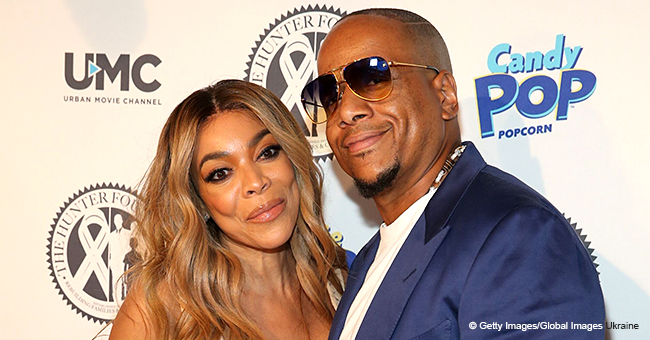 Kevin Hunter Reportedly Negotiating Multi-Million Settlement in Divorce From Wendy Williams & Show Exit
Wendy Williams' husband, Kevin Hunter, is reportedly negotiating a multi-million dollar settlement following the talk show host's divorce filing. The settlement is also said to include a severance package for his exit as one of her show's executive producers.
Williams, 54, filed for divorce last Thursday following reports of Hunter fathering a child with his alleged longtime mistress.
POTENTIAL COMPLICATIONS
Since then, there have been speculations about how the divorce process will pan out especially considering that the estranged couple shares several business ties.
Not only has Hunter been a producer on the "Wendy Williams Show" since inception in 2008, but he also co-owns Williams' production house in addition to being her manager.
FINANCIAL IMPLICATIONS
Now, according to an exclusive report by The Blast, the 47-year-old is not planning to dispute the divorce or his exit from the TV diva's Emmy-nominated show, but he plans to walk away with a settlement running into millions of dollars.
While he may leave his Executive Producer job from Williams' show as a formality, the outlet notes that completely severing Hunter's ties with his wife of over two decades will be much more complicated.
HAPPY WENDY
Even though she most likely has a lot of unpleasant days ahead, Williams has been upbeat since news broke of her divorce filing.
During Monday's "Hot Topics" segment on her eponymous show, Williams announced to the audience and viewers that she would be moving out of the sober living house soon.
She earlier opened up about moving into the facility to deal with her addiction issues, and it was around that same time reports of her husband's love-child surfaced.
According to Williams, her exit from the sober house would signal the beginning of a new life for her and her son, 18-year-old Kevin Jr., who she shares with Hunter.
"It'll be Wendy on her own. I've been dealing with issues with addiction, alcoholism, and I have a whole new life that I planned for myself and my son."
MOVING ON
On Wednesday, Williams again gave fans some insight into how happy she was with her new life when she revealed she'd be going on a double-date over the weekend.
The outing is most likely a platonic one, however, because one of the men is DJ Boof, her show's in-house DJ and the other is Charlamagne, Williams' one-time radio sidekick who she fell out with after Hunter began an illicit affair with the alleged mistress, Sharina Hudson.
Between making headway in her battle against addiction and hanging out with friends, Williams appears to be in the best place she's been for a long time.
The TV queen seemed to confirm she's in a great place on Wednesday when paparazzi reportedly yelled at her on the street: "never let no man punk you," and she replied: "I know, never that!"
Please fill in your e-mail so we can share with you our top stories!