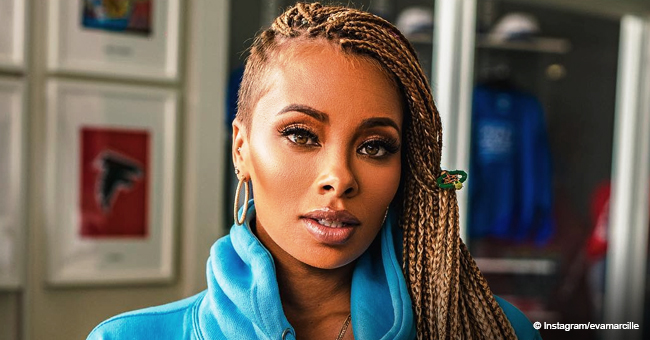 Eva Marcille Shares New Photo of Son Mikey after His First Birthday
Nothing compares to the happy and adorable moments a mother shares with her child. The feeling of watching a baby blossom from cradle to toddlerhood is just epic!
In this sensational mother-son time shared on an Instagram handle, "The Real Housewives of Atlanta" star Eva Marcille reveals that genuine and invaluable bond while celebrating her one-year-old son, Michael Sterling Jr., popularly called Mickey.
The internet was graced with an adorable upload from Eva Marcille who took to her Instagram page to celebrate her delightful prince charming on his first birthday. In the photo, Eva wore a peculiar smile as a sincere reaction to her son's happy face. The picture bore a caption of a sunflower. The post received over 50,000 likes, with a plethora of comments from her fans.
The diva dressed in a bright orange colored outfit, had her blond hair knitted neatly, while she completed the savvy look with a Batman-like shade. She adorned her son in a blue and white collar stripe shirt, but what made him glow exceptionally were his admirable laugh and curly hair.
An array of comments flooded her post from her fans. While some thought this was a memorable moment shared in the best possible way, others felt it was a charming picture, and that Mickey got his good looks from his father.
A user, @shania.wright.52 wrote,
"Eva Honey, you had NOTHING to do with the genes of this baby….he is definitely beautiful, but he is his Daddy your Husband All Day Long!"
@renewdminds also commented,
"So handsome. He should be the new face of Gerber Baby."
Mickey's celebration was not limited to his mom alone, his father, Michael Sterling showed off lovely images of his son; he also had a few lovely things to say about his one-year-old. According to his post:
"Happy Birthday son. The prince that was promised. Lover of apple juice. Does this kid know how to take a picture or what?"
Sterling further added:
"This time last year, I was at the hospital waiting for the arrival of Mike II. Nearly one year later and I'm still having the best time of my life being a dad. Time is undefeated. It knocks on all our doors. Don't miss the moment."
It appeared it wasn't only Dada that expressed his exciting experience. Mama shared the impact of baby Mickey in her life. According to Eva, she delivered her son on the same day that Coachella was being held; and this hindered her attendance. She also stated that she missed the event a second time as she was celebrating her son's birthday.
The couple who reportedly got married in a lovely Atlantan wedding stops at nothing to reflect their love for their son and Eva's mommy duties is top notch. Although this is the couple's only child together, Eva, on the other hand, has a daughter named Marley Rae McCall from her previous relationship.
Please fill in your e-mail so we can share with you our top stories!