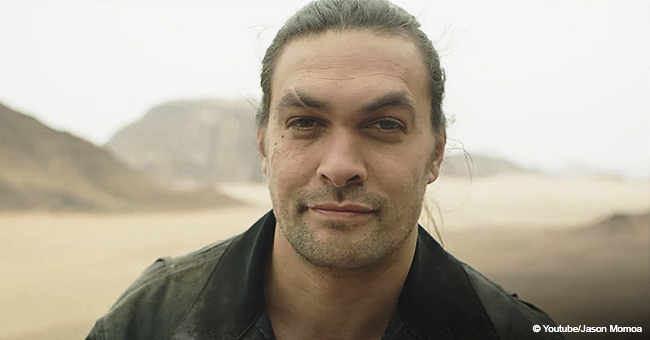 Jason Momoa, Lisa Bonet's Husband, Shaves off Beard for 1st Time in 7 Years

Jason Momoa just got rid of his full, beloved beard and he did it all for the sake of the environment. Fan reactions were quite mixed as a result, but almost all of them were hilarious.
The 39-year-old recorded the moment he said goodbye to one of his most defining features alongside a good friend of his. The two men were out in a desert-like area to do the deed.
Momoa shared the clip to his YouTube account and wrote in the description:
"Goodbye DROGO, AQUAMAN, DECLAN, BABA! I'm shaving this beast off, it's time to make a change. A change for the better... for my kids, for your kids, the world. Let's make a positive change for the health of our planet."
Momoa was referencing the most memorable roles he played in films he's been in over the past few years. All of them featured a long, thick beard that most would say suited the actor very well.
The long-haired father of two said that the last time he shaved clean was back in 2012. He's doing it now again to promote the launch of a canned water line called Ball Corporation.
Momoa explained that the cans are made of aluminum and are "100 percent recyclable." He claimed that "about 75 percent of all aluminum that's ever been used is still in use today."
He said:
"I just want to do this to bring awareness because plastics are killing our planet and I think we have a solution. I don't want to [expletive] about it [but] there's only one thing that will really help our planet and save our planet — as long as we recycle — and that's aluminum."
The project has been in the making for the last two months, Momoa stated. He did it to set an example and to better the world not by himself, but through the help of companies who would sell the project.
Momoa introduced lines including still, alkaline, sparkling, and spring water in the clip. He admitted, "It's just water but I feel good about it. I know I'm going to recycle this and I know that we can recycle it."
He pleaded:
"So please, please. There's a change coming. Aluminum. We got to get rid of these plastic water bottles. Aquaman's trying to do the best he can. For your kids, for my kids, for the world. Clean up the oceans, clean up the land."
Momoa kept his hair in tact despite the big show of cutting his beard. It may be because he knows his wife, Lisa Bonet, would leave him if he does. The actor said as much in a December 2018 interview with the Daily Telegraph.
Online, the reactions from fans were priceless. Most people loved it while some totally hated it and wanted the beard back. Several people commended Momoa for the reason he shaved.
He and Bonet have been together since 2005 when they met in a New York jazz club. At the time, Momoa had locked his hair because of Bonet. He said he was going crazy inside when Bonet spoke to him that night.
The couple share daughter Lola Iolani, 11, and son Nakoa-Wolf Manakauapo Namakaeha, 10, together. They got married in October 2017. Bonet also has 30-year-old daughter Zoë Kravitz, 30, whom she shares with ex-husband Lenny Kravitz, 54.
Last month, Momoa again surprised fans who were in the audience at the World Rugby Sevens Series game held in Vancouver, Canada. Online, the images of the actor sent followers wild.
Momoa supported his team "The All Blacks" against "The Pumas" of Argentina. He was accompanied by his "Justice League" stunt double Glen Ennis and daughter.
The "Game of Thrones" star took pictures with the rugby players. The organization also captured and shared a clip of Momoa interacting with the players as he wore a very extravagant pair of striped pants.
Please fill in your e-mail so we can share with you our top stories!