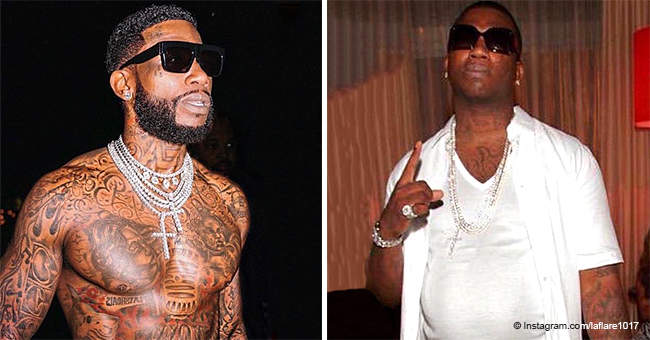 Gucci Mane Loses an Impressive 100-Pounds
Rapper Gucci Mane has a reason to flaunt his body. He recently dropped an astonishing 100 pounds and took to Instagram to celebrate his weight-loss with a stunning picture of himself.
Since revealing the news of his 100-pound weight loss to the world, the "Tone It Down" rapper has been showing off his cut upper body. He has inundated his social media with stunning pics of himself shirtless and fans don't seem to mind at all.
The artist has been showered with compliments on the before and after comparison, he shared on Instagram. The artist recently posted yet another comparison snap.
Gucci took to Instagram to post a photo of himself before his weight loss beside an image of his new and improved slim physique on Wednesday evening. He captioned the image of his bulging belly "Stop playing Wit Me #BigWop #wopwednesdays."
Fans who've been following Gucci's career since 2005 were blown away by his transformation. Many took to the comments section to fawn over his entire physical transformation which also included a new beard and hairline to match his improved body.
"LIKE if Gucci got the best glow up of HIP HOP," commented one fan while another added, "You've always been fine to me but now maaannnn, best glow up yet!"
Fans also referenced the rappers time in prison. Many felt the stint in jail had aided the rapper to find himself and focus on both his physical and mental health.
The "Met Gala" artist reportedly revealed he has lost a total of 100 pounds. He attributes the weight loss to eating clean and exercising.
He told his supporters in an Instagram post earlier this month that he believes if he could achieve his weight goals anybody can. He encouraged them to use his journey to health as inspiration for their own lives.
"For people who ain't in shape, people who ain't healthy, people need some inspiration. I was 290 pounds, now I'm a 190 pounds. I lost 100 pounds," he said in an IG video. "So check this out: You can do it if I can do it. Use me for inspiration, 'cause I'm seeing a lot of y'all, and y'all look terrible.
Gucci reportedly lost the first 50 pounds while in prison. He had been serving three years for felony gun and drug charges.
He stuck to the healthy habits he had picked up in prison and dropped 50 more pounds after his release.
Please fill in your e-mail so we can share with you our top stories!