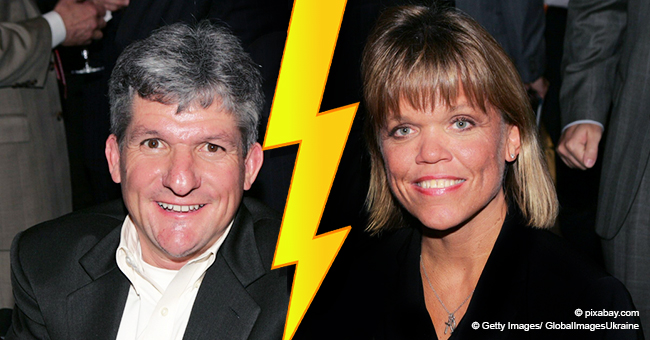 Matt Roloff's 2007 Book Showed Signs His Marriage with Amy Would Sink
The world was introduced to Matt and Amy Roloff when they appeared in the TLC reality series "Little People, Big World." The couple, who were born with dwarfism have four kids who were raised in the eyes of the audience of their show.
Like any other reality couple, Matt and Amy engaged in their own family drama. The couple frequently dealt with issues surrounding their family but to see them part ways is not what we expected.
After the couple announced they were getting a divorce after 30 years of marriage. Since then, there have been numerous speculations about what went down with their relationship.
In a statement to TLC, the couple described why they had made the decision to part ways.
"After 27 years of marriage, it is with great sadness that we have come to the difficult decision to file for divorce. We are proud of what we have accomplished together, including raising our four wonderful children, who have grown to become remarkable adults and building our strong and ongoing successful businesses," the statement read.
The duo further shared that their children will always be their top priority and they will continue to work together in their ventures.
However, the couple had initially experimented with "trial separation" before actually separating.
"Last year, it was long and tough," Matt said during an episode of "Little People, Big World." "Amy and I had a lot of tensions, so right around Thanksgiving, I thought I would move over to the [guest] house for a little bit…Amy and I stuck it out for years when maybe we shouldn't have. I never quite felt at home in my own home, so something needed to change."
Amy further revealed how she and her husband never learned to live like a couple after marriage.
In April 2007, Matt and Amy were already 20 years into the marriage. He started writing a book called "Little Family, Big Values: Lessons in Love, Respect and Understanding for Families of Any Size" after a year that they got married where he noted down the differences he and Amy had.
In the book, Matt shared how Amy put commitment at or near the top of her list while he put it further down.
"Amy tends to be more of a committed-to-a-fault kind of person, while I see most commitments — with some very notable exceptions — as flexible and negotiable," he wrote.
During the premiere of season 19 of their show, Matt hinted that the way Amy processes information is the main reason why they got divorced.
After all the turmoil and pain of separation, the couple finally moved on with their respective partners. We hope they continue to live their lives happily.
Please fill in your e-mail so we can share with you our top stories!