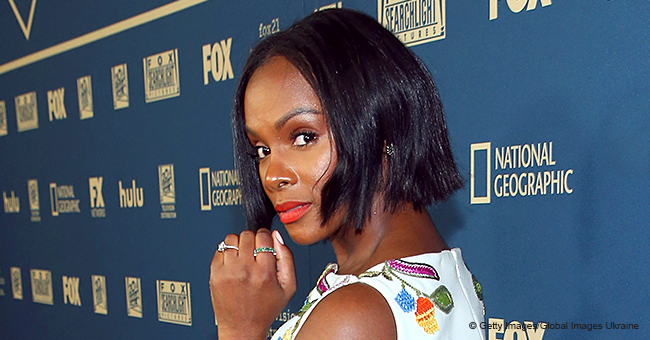 Tika Sumpter Once Revealed What It Is like to Be Dark-Skinned in Hollywood
Tika Sumpter is one of the most gorgeous and talented actresses in Hollywood, and while some people might believe she has faced discrimination for her vibrant dark skin, Tika says she doesn't know that struggle. It's all thanks to her upbringing.
The "Haves & Haves Not" star always tells it like it is, and in an interview, she did for the Grio back in 2014, she tackled head on the issue of colorism in the entertainment industry, which makes it harder for dark-skinned folks to get even opportunities in the field.
When asked about her point of view of the acting game as a black woman, she replied:
"I don't know who's portraying that dark-skinned girls are supposed to have this like, dim look on life, but I'm just like, what is that? I've never had that. And I'm not going to start having it."
Surprisingly, Sumpter admitted that up until that point, at least, she never had colorism issues in Hollywood.
"I've never had to deal with the colorism thing, really. I just walk in, wherever I'm going, as a confident woman. I don't have to say that I'm a black actress. I know I'm black. I came out that way. I've been this way my whole life. So I'm just an actress, not a black actress or this is who I am."
She revealed that she doesn't get it personally when a director chooses a light-skinned actress over her, stating that she does her part by stepping in like a talented and beautiful woman, but it doesn't depend on her if people accept it or not.
"And that's okay. There are options. It's a buffet of people," she added.
"I don't know who's portraying that dark-skinned girls are supposed to have this like, dim look on life, but I'm just like, what is that? I've never had that."
Although Sumpter's point of view might crash against what some actresses like Zendaya, Amandla Stenberg or Keke Palmer had stated about the issue, her upbringing had a huge influence in the way she sees the situation.
"My mother says that when my father, a striking man with kind eyes, broad shoulders, and deep ebony-brown skin, first saw me in the hospital that day, his eyes lit up brightly as he promptly proclaimed, "'She has my color. She looks like me!'" she recalled in an essay for Hello Beautiful.
Sumpter went on to explain that growing up she received constant praise from her family and friends for her skin color, which helped her embrace her identity with pride and navigate life portraying that sentiment.
However, she did admit that after she landed a role on "Gossip Girl," she realized the depth of the lack of representation for black girls on television at the time.
"Each week I'd get the tons of letters from mothers, grandmothers, and young girls literally thanking me for simply existing," she said. "They wrote me saying they'd never seen a woman that looked like me on television before."
What they meant, she said, is they never saw anyone that looked like them on the screen. And added:
"Some fans even remarked that they'd never witnessed any woman with my skin color speak the way I spoke, have a successful career the way I had on that show, or carry themselves in such a ladylike manner."
Sumpter explained that it was hurtful to realize how many black girls were growing up without the reassurance she had as a child. "I also regret that so many are forced to seek their self-worth between the pages of mainstream magazines or in the background of a rap music video," she added.
But through her work, Tika hopes to make a difference in how black women are portrayed on the screen, and she's proud of being a representative for the dark-skinned girls.
Until now, she's done great work.
Please fill in your e-mail so we can share with you our top stories!