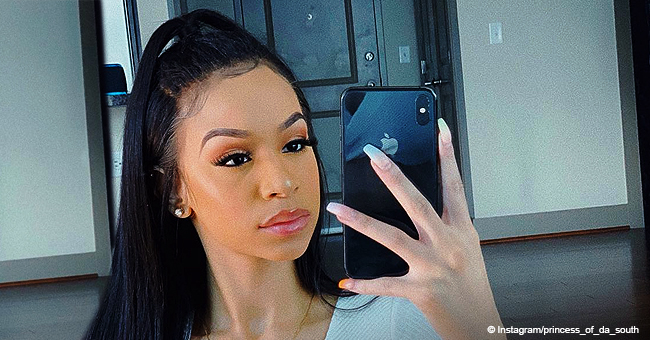 T.I.'s Daughter Deyjah Sends Message to All Men Ahead of Her 18th Birthday
Deyjah will clock the big eighteen in June, and the young beauty seemed to call for a public announcement in relation to her big day. Harris took to Instagram to warn off "older" men who think they'll get a chance with her now that's she stepping into adulthood.
She has continuously shown herself to be very bold especially when it comes to defending herself and this time, the 17-year-old has taken to Instagram to ward off overage admirers. Deyjah held nothing back as she criticized older men unashamedly sneaking into her chat page in a bid to get her into their beds.
"I just want to quickly say that just because I'm turning 18 in June…that doesn't mean 1. that ya'll will even get the chance to lmaooooooo 2. more importantly, that still doesn't make it right for you grown ass men to try and get at me…eighteen," she said.
The daughter of the famous rapper went on to reiterate that she was still a teenager and even made a jab at the fact that most of these men had close relatives her age they'd do anything to protect. Deyjah:
"i will still be A TEENAGER!!! if you're not ok with someone your age tryna get with your daughter, sister, niece, etc. then don't think it's ok with me."
Her boldness is one that has become widely applauded, and one can say she got it from her famous daddy, T.I. The award-winning rapper is known to hold nothing back when it comes to voicing his opinions as well as defending his family.
An avid follower of the Harris' family TV show, "Family Hustle," would know that the family shares a tight bond. Deyjah is a product of T. I.'s previous relationship with Ms. Niko, but that is never obvious as she is treated just like every other child.
Under this love and tender care, it is no wonder that she has grown so beautifully despite being under glaring cameras. With a large following of well over a million on Instagram, she is fast carving a niche for herself amongst the famous.
The svelte beauty is mainly known to model for various fashion outlets most especially "Fashion Nova." Although internet fame is entirely laudable, there is the wrong side to it all, and one of them is the numerous admirers that would find her to be a prey.
In a bid to fend off the undesirable moves on her little self, the teenager posted the message on Thursday. Her big step doesn't go unrecognized with various media outlets publicizing the post. The popular celebrity news outlet, "theshaderoom" reposted the message and captioned it saying:
"#TI's daughter #Deyjah is growing up on us & issues a PSA ahead of her 18th birthday!!"
In response, fans have cheered Deyjah on for being so brave and smart despite her young age.
Please fill in your e-mail so we can share with you our top stories!