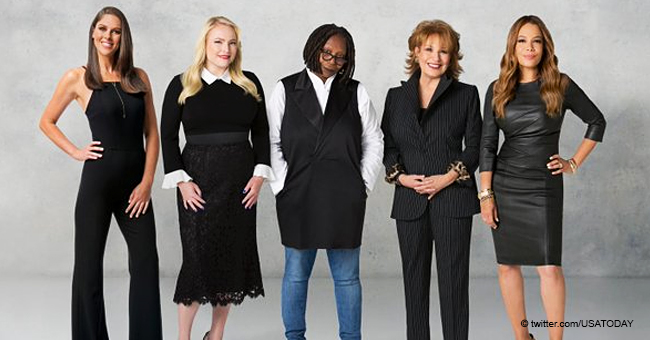 Joy Behar and 'The View' Co-Hosts Are Happy SNL Finally Used Female Actors to Mock Them

Co-hosts of the talk show, "The View" were mocked in a skit on "Saturday Night Live." The skit had female comedians this time, and they played the roles of the talks show co-hosts so well that they received commendation froms them.
"Saturday Night Live" aired a skit which mocked "The View" co-hosts, Whoopi Goldberg, Joy Behar, and Meghan McCain. The skit showed Whoopi holding a bottle of water with which she sprays her fellow co-hosts to stop them from getting into a fight.
The trio is well known for always arguing and sharing differing views on issues discussed on the show. When the skit was done, "The View" was on a spring break, but when they returned on Monday, the co-hosts had surprisingly commendable words about it and this time they were all in agreement.
The trio all agreed that being mocked by female comedians was a step in the right direction after they had grown accustomed to male comedians mocking them.
Joy Behar, who was mocked by Kate McKinnon said that having herself spoofed by a woman was pleasurable and also a welcome change.
On her part, Whoopi Goldberg whose character was mimicked by Leslie Jones agreed as she said that it was pleasing to finally see a woman mock them on "SNL" after so many years of them being mimicked by men, which made them believe that "SNL" had no women.
McCain, on the other hand, had nothing but love for Aidy Bryant, the woman who portrayed her in the skit, telling her that she got "her" perfectly.
Though the trio all welcomed the change and praised the skit, Behar couldn't help but reminisce on the previous skits and also Fred Armisen, the man who used to portray her before. To her, Fred was funnier due to the presence of his shoulder pads.
Twitter was also agog with tweets referring to the skit. The Twitter page of "The View" posted a video of the skit, and most fans commended them for doing so. Most comments agreed that the skit was spot on and portrayed the co-hosts well enough.
However, a few fans still had harsh words for Meghan as they felt she didn't learn from the skit after she still disrespected Joy Behar on the show.
Please fill in your e-mail so we can share with you our top stories!