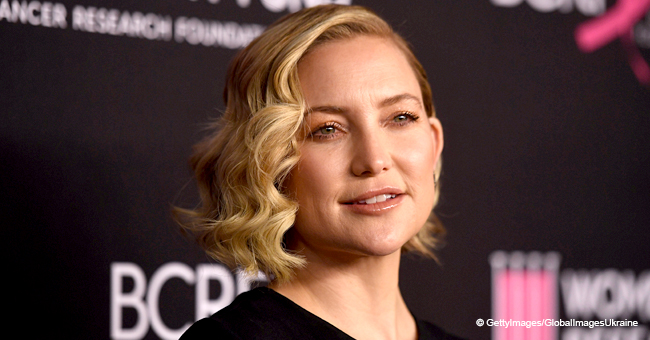 Here's a Sweet Revelation of the Names Given to Kate Hudson's Three Kids
Kate Hudson is the happy mother of three beautiful children, who as it turns out, all have special family monikers.
Rani Rose is the latest addition to the family, who welcomed her with open arms on October 2, 2018.
The 40-year-old actress and her boyfriend Danny Fujikawa's little girl is as happy as Kate, and the feeling is mutual as she captioned an adorable picture of Rani, "Because of your smile, you make life more beautiful -Thich Nhat Hanh #Rani."
Danny and Kate chose to name her after her grandfather, Ron Fujikawa who she described as "the most special man who we all miss dearly," as he sadly passed on in 2012.
As lawyer Ron founded the Kinsella, Boesch, Fujikawa & Towle law group and had his three sons, Danny, Michael and Braden from his marriage to Melissa Linehan.
Ron's "devoted companion" during the last ten years of his life was Rebecca Foster, her two daughters Sara and Erin are close friends with Kate, which is how she met Danny.
Seven-year-old Bingham Hawn, Kate had from her previous relationship with ex-fiance Matt Bellamy, and they hit the ball out of the park with his moniker.
Bingham was Matt's mother's maiden name while Bing Russell was Kurt Russell's dad.
Big brother Ryder Russell is now fourteen years old and from Kate's marriage to her ex-husband, Chris Robinson in 2004.
Kurt Russell takes the honors for Ryder's middle name as it got given after him. Kurt and Kate's mum Goldie had spent the last 35 years together, an even though they never officially got married, he was every bit the father and husband, and still is.
"When you have a father like Kurt who's sort of been there for the hard stuff … the thing is he's not a perfect man, no one is, but the trust that I got from him in terms of his dependability was just priceless for me," Kate said.
After Goldie and Kate's biological father, Bill Hudson split up in 1982, his appearances in their lives "teetered out."
Kate milestone birthday celebrations took place only days ago, as she celebrated her 40th birthday over the Easter weekend.
Her perfect day included a laid back and fun time with close friends and family while it also had some surprises in store.
While on the subject of Kate's birthday and her three beautiful children, it so happened that her birthday is the first time she had posted a picture of all three of her children together.
Please fill in your e-mail so we can share with you our top stories!