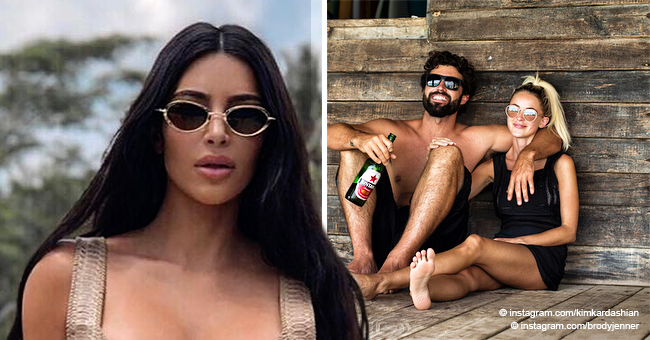 Kim Kardashian's Former Step-Brother Reveals He Wouldn't Want Her to Be His Lawyer One Day
Kim Kardashian recently revealed her wish to take the California bar exams in 2022, but her former step-brother, Brody Jenner does not want her to represent him in court if she becomes a lawyer.
Kim Kardashian's wish to become a lawyer keeps gathering steam by the day. The reality star is doing so well in her studies and revealed recently on Twitter that she "aced her tests."
She is billed to take the California Bar exams by 2022, and if all goes well, nothing will stand in her way of being a lawyer. Many people would gladly want to be represented by the star if she finally becomes an attorney, but Kim's former step-brother, Brody Jenner is not one of those people.
Brody spoke to TMZ and answered questions about the famous former step-sister's aspirations of being a lawyer. He had nothing but high praise for Kim's abilities and thought she would make a great attorney for her clients, as she possesses excellent skills that would enable her to succeed in the field of Law.
He also stated that Kim is one of the people who could do pretty much anything they wanted. Though Brody had so much praise for Kim and felt her aspirations were good, he doesn't wish to be represented by Kim in the law courts.
He said he hoped that Kim wouldn't have to be his lawyer anytime, noting that though he knows she would do a great job representing him, he doesn't want to find himself in the courtroom. Brody is keen on staying out of trouble with the law.
Brody and Kim's relationship declined after their parents, Kris Jenner and Bruce Jenner (who is now known as Caitlyn Jenner) split up after 23 years of marriage.
Their relationship has always been somewhat strained after Kim refused to give Brody an additional wedding invite during her wedding with Kanye. Brody wished to attend the ceremony with his then-girlfriend and present wife, Kaitlyn Carter but had to miss the event after Kim's refusal to give him a plus-one.
He would get his pound of flesh during his wedding in 2018, as he failed to invite any of the Kardashians, only inviting his half-sisters, Kylie, and Kendall, who didn't show up.
Please fill in your e-mail so we can share with you our top stories!