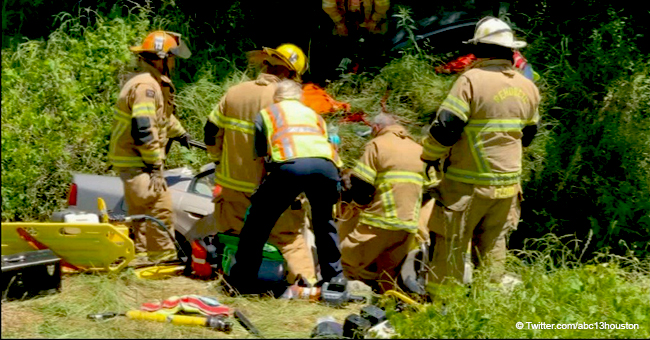 Missing Woman Found Trapped in Her Wrecked Car After Five Days of Searching
An Alabama woman was reported missing last Saturday. She was finally found alive on Monday morning after an unnamed man discovered her trapped in her vehicle.
The woman was stuck in a ditch for a number of days making it difficult to locate her.
The Alabama Law Enforcement Agency revealed that it believed Robin Joyce Fancher had crashed into a ditch last week on County Road 203 at the Limestone Creek Bridge in Campbellton. However, they couldn't find her all along because her Mitsubishi sedan just wasn't visible from the road.
Fancher was last seen leaving the Greentree Apartments on Friday in Headland heading for the post office. Luckily for her, a man found her at around 12:30 p.m. and shared that the responding officers also had difficulty locating the car when they arrived.
"They didn't see her when they came by looking."
He shared how he couldn't help her on his own. The man said: "I came back down here and waited, but there wasn't anything I could do," because she was too far down in the ditch.
The passerby, who wished to remain anonymous, added: "The county even went by twice, two or three times actually, went up, turned around and came back by across the bridge again."
He added: "They didn't see her when they came by looking." After locating the missing woman, the first responders had a challenge of how to safely remove the woman from the car.
Dothan Fire Battalion Chief Pete Webb said: "The main challenges were going to be where the car was and where the victim was pinned against the driver's door." He continued: "It was off the road, and it was difficult to get the car to pull around her."
The whole rescue mission took over an hour and five first responder agencies were utilized. Eventually, Fancher was freed and taken to a nearby hospital.
Webb said: "(The) joint effort, the communication in the car, in the ditch was really good." He added: "As I said earlier, people were throwing ideas out there, and it was all to take care of her to get her out."
Fancher was responsive and alert when she was taken to the hospital. However, she suffered multiple injuries but managed to communicate with her rescuers.
In a similar story, Shantelle Johnson and Colen Nulgit an Australian couple was rescued after their SUV got stuck near crocodile-infested waters for 26 hours on Sunday. At the time, the pair was on a fishing trip with their puppy, Ace.
They were saved after they spelled "HELP" in the mud and lit a fire to grab the attention of their rescuers.
Please fill in your e-mail so we can share with you our top stories!