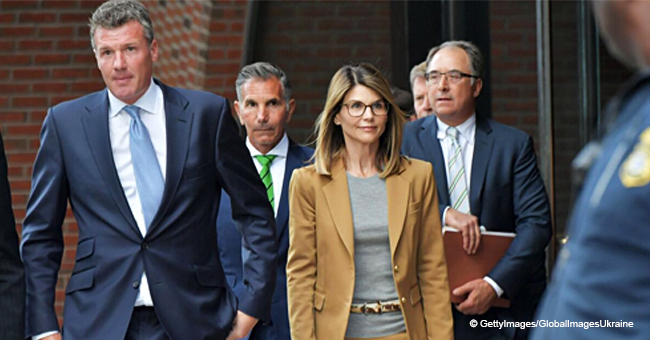 Lori Loughlin Reportedly Demands 'Extremely Voluminous' Evidence in Her College Bribery Case
As pressure for Loughlin and her husband Mossimo Giannulli to reconsider their non-guilty plea increases, the couple and other fifteen parents charged in the case are demanding to see the evidence against them.
54-year-old actress Lori Loughlin and a group of parents indicted in the college admission case are making a new attempt at delaying the trial, this time by requesting the prosecutors to allow them to review the evidence.
Despite the authorities claim that the evidence against these wealthy parents who tried to bribe their children into elite universities is "extremely voluminous," the defendants are complaining about not having seen any of it.
Considering this, the parents' legal team filed a motion on April 22 requesting the suspension of any major decisions until their demands to review the prosecution's findings are met.
"Litigating substantive motions in a piecemeal fashion and before Defendants have an opportunity to become familiar with the government's evidence could substantially prejudice the Defendants' ability to make proper legal arguments to contest the allegations," the motion argues.
Loughlin and Giannulli April 16's non-guilty plea was met with much criticism by the public, and now it is believed that the alleged criminal investigation on her daughters might be a form of pressure for the couple to plead guilty.
"Lori is digging in, claiming innocence and ruining her value down the road. There must be a legal strategy here, but if you want to come back as an actor and a public figure, you have to factor in the optics."
Loughlin, famous for playing the beloved character of "Aunt Becky" in both "Full House" and its spin-off "Fuller House," and "Desperate Housewives" alum Felicity Huffman are the most visible faces of the scheme uncovered by the FBI.
THE LARGEST CASE OF ITS KIND IN US HISTORY
But the stars implicated are only the tip of the iceberg in the outrageous case that involves 50 defendants across six states, making it the largest of its kind ever prosecuted.
Loughlin and Huffman, along with 31 other parents were arrested in relation to the case in March. Contrary to Loughlin, Huffman and 13 other parents agreed to plead guilty in exchange for shorter sentences and facing no further charges.
DIFFERENT APPROACHES TO THE INDICTMENT
Beyond their legal decisions, Loughlin and Huffman have shown completely different approaches to the accusations, which will influence the outcome of the case against each one of them.
Huffman has not only agreed to plead guilty, but she has shown remorse about her actions and even issued a public apology to the public, her daughters, and the law, making no attempts at justifying her involvement in the scheme in any way.
"I am in full acceptance of my guilt, and with deep regret and shame over what I have done... and will accept the consequences that stem from those actions," she wrote in a statement.
"I am ashamed of the pain I have caused my daughter, my family, my friends, my colleagues and the educational community," the actress added.
"I want to apologize to them and, especially, I want to apologize to the students who work hard every day to get into college, and to their parents who make tremendous sacrifices to support their children and do so honestly," she added.
Her admission of guilt prompted the prosecutors to recommend incarceration at the "low end" of the sentencing range, which means she could be facing a sentence of 12 to 18 months.
On the other hand, Loughlin's refusal to admit any wrongdoing and her cheerful behavior outside of court have resulted in the public's reprobation and the addition of charges against her.
If she doesn't reach an agreement with the prosecutors, she could be facing up to 40 years behind bars.
HOLLYWOOD'S REACTION
Hollywood's response to the indictment of Loughlin and Huffman has also differed greatly. Things have been harder for Loughlin, who has been dropped by the Hallmark Channel and is unlikely to return to Netflix's "Fuller House."
Huffman has two upcoming releases on Netflix, but they don't seem to have been affected by the accusations against the actress, although how the audience will respond is yet to be seen.
"Felicity is setting herself up to be rehabilitated. Nobody wants to go to prison in order to work again, but she is definitely playing to the public sentiment," a crisis-P.R. executive told Vanity Fair.
"Lori is digging in, claiming innocence and ruining her value down the road. There must be a legal strategy here, but if you want to come back as an actor and a public figure, you have to factor in the optics," the executive added.
Please fill in your e-mail so we can share with you our top stories!