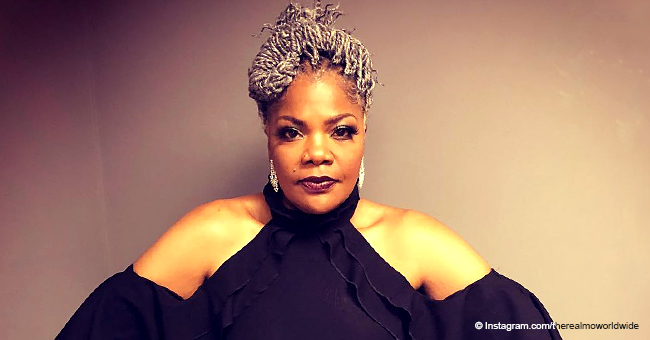 Mo'Nique Flaunts Her Gray Locs and Slimmer Figure in New Pics
Mo'Nique just served up another stunning look displaying her bodacious figure and a new hairstyle to go with it.
The comedian took to Instagram to again remind fans that she's still hitting the gym and the hard work is paying off with amazing results. She's lost over 100 pounds in her journey and looks incredible. The posts are found below.
The star has also been sharing lots of pictures featuring her new gray hair. She shared two photos earlier this week and they were both breathtaking. In the first, Mo'Nique wore a black dress with shoulder cutouts and frilled sleeves.
The 51-year-old's silhouette shone through the tight-fitting dress that came up to her neck. Mo'Nique's makeup was striking, matching her outfit. As for her hair, she had grey braids styled in an updo.
In the caption, she wrote:
"Black is everything! See y'all @ the show. Mo'Nique does Vegas SLS Hotel!"
In the comments, fans were loving the look, loving the dress and could confirm that the actress glowed in the photograph. One person said they were "snatched."
Mo'Nique's next post would continue to garner similar reactions. In a more portrait-like photo, Mo'Nique wore an off-shoulder grey piece with a patterned design.
Her skin looked flawless as she turned her head away for the picture. She wore the same grey 'do, this time styled with some hair falling down on one side of her face.
In the caption, she thanked her "glam team," tagging them as she went.
"I told the team I'm good looking like I'm 51 yrs old. NOT TOO [sic] MUCH! Y'all hit it out the park! Love y' all! See you @ the show! MO'NIQUE DOES VEGAS!"
The star has been sharing more and more posts of her wearing the grey and embracing older age. Earlier this month, she posted another fully grey look consisting of flat twists going back and the rest of her hair let out.
She encouraged her "sisters" in the caption to not cover "what's naturally beautiful." One person said they were "done coloring" as a response, seemingly inspired by the comedian.
A couple of days later, she again posted a shot, this time wearing a grey crown in the form of a high ban with a braid twisted around it. The post also featured her friend and fellow comedian Correy Bell.
Mo'Nique debuted her grey hair around June 2018. Back then, she wore a short curly look with some silver strands popping through. "Let it happen naturally," she urged in her caption.
In true tribute fashion, she also wore her hair in an afro and shouted out "the sisters that wear and wore their afro's with pride" earlier this month. The picture was greyscaled, but it was clear that there were gorgeous grays in there.
Please fill in your e-mail so we can share with you our top stories!