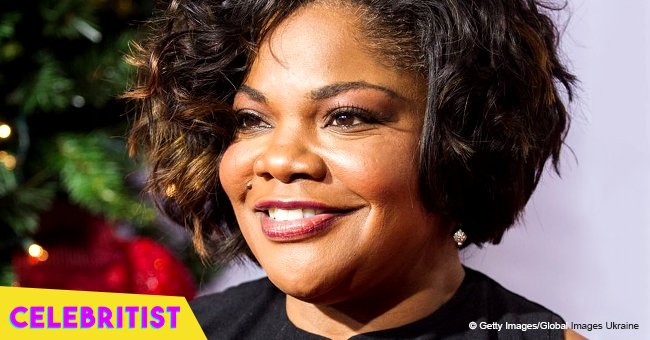 Mo'Nique shares picture showing off her grey afro hair
Mo'Nique rocks an afro hairstyle in her latest post but she also fashions it with wisps of grey hair to complement. See her timeless photo that's bringing back vibes from an era when black women confidently wore the signature do.
After shocking the world with her incredible weight loss that reached its all-time-low this year, Mo'Nique is giving people something else to talk about – her hair. The actress recently fashioned an afro hair style and fans are loving it.
It's unclear whether Mo'Nique was sporting the do for a film but what was evident in the photo she posted was her grey hair that stood out amidst her thick curls.
Mo'Nique was never shy of flaunting her age through her hair. She did that months ago when she shared a photo of her flawlessly made-up face. Her hair perfectly crowned it despite its grey streaks.
Now the award-winning actress is using her grey strands to highlight her afro look and it looks amazing. It was also complemented by the photo's black and white print.
The post was Mo'Nique's special tribute to earlier African-American women who proudly sported the afro hairstyle in the past.
"TRIBUTE TO THE SISTERS THAT WEAR AND WORE THEIR AFRO'S WITH PRIDE. @the_takehomestylist just being your creative self. @brandimallory thanks for my Pam Grier . Here's to YOU QUEENS. LOVE us 2 LIFE"
Mo'Nique gained a whole new sense of confidence ever since she debuted her incredible weight loss. In April, she proudly showcased her slim figure which then weighed below 200 pounds. According to the star, it was the first time since she was 17 that she achieved the weight and now believes anything is possible.
Mo'Nique was also especially proud of the fact that she didn't cheat her way to losing the pounds. She didn't resort to surgery or pre-packaged food. It was all about "putting in the work and not giving up." She followed a raw diet and trained relentlessly through dance.
Earlier this month, the comedian gave her social media followers a sample of her dancing prowess when she danced to Drake's 'In My Feelings' in response to the '#InMyFeelings Challenge' that's become an online craze. In a video she posted, Mo'Nique gave it her all as she danced alongside her friends while hiking outdoors.
Many celebrities have taken on the challenge including Will Smith, Ciara, Kevin Hart, Sterling Brown, even the cast of Queer Eye. The challenge began when Instagram star Shiggy shared a video of himself dancing to Drake's now popular tune in the streets. Since then, many dared to imitate his original rendition.
Please fill in your e-mail so we can share with you our top stories!