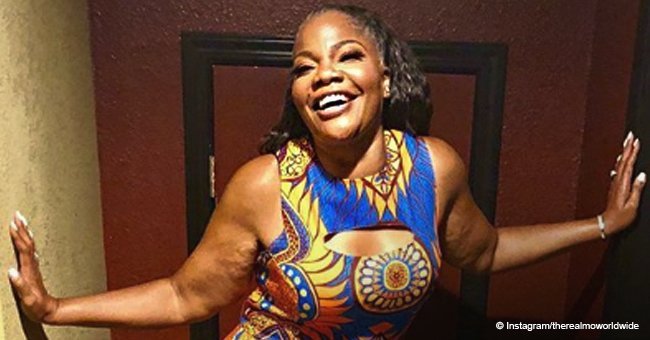 Mo'Nique shows off insane dance moves in T-shirt and tight pants after drastic weight loss

For the first time in her adult life, Mo'Nique finally weighs under 200 pounds, and other than exercising in the gym, it seems she found another way to stay fit in a fun way - dancing!
The actress showed off her dance moves in a shirt and tight pants which evidently showed off her new slim figure. In the clip, she danced to the new hit dance craze after Drake's "In My Feelings", this time for Ciara's "Level Up". Mo'Nique gave it her all, dancing alongside some of her friends while on a hike outdoors.
The "The Parkers" star previously shared her fitness story on another Instagram video, saying that ever since she was 17-years-old, she has always been over 200 pounds. It is only now in 2018 that she has been under 200 pounds, and she is extremely proud of it
She made sure to follow up the video with proof of her weight, showing a scale that displayed "198.4 lbs.".
While speculation arose of the actress having to go under plastic surgery to reach her slimmer weight, she slams these rumors and said that hard work has done the trick for her. According to Newsweek, she said:
"For me it was with no surgery, no prepackaged foods, not listening to no spokespeople saying 'it's easy, you can do it.' It was just putting in the work and not giving up on me. So I wanna share with ya'll what it look like on that scale this morning. And I wanna share with ya'll the goodness that you can eat and still drop this weight. It's called raw food. It's called dancing your pants off. It's called giving yourself a chance to live the best life you can live."
In 2013, Mo'Nique came close to her current weight, dropping down to 218 pounds just three years after accepting her Oscar for her role as Mary in "Precious". It was when filming this movie that she was her heaviest, at 300 pounds. The following year, the actress made sure to work on her weight, losing a total of 80 pounds since she began her journey.
Now, a good five years later, she is doing great with her new weight, and all she Mo'Nique has to do now is maintain it.
Please fill in your e-mail so we can share with you our top stories!