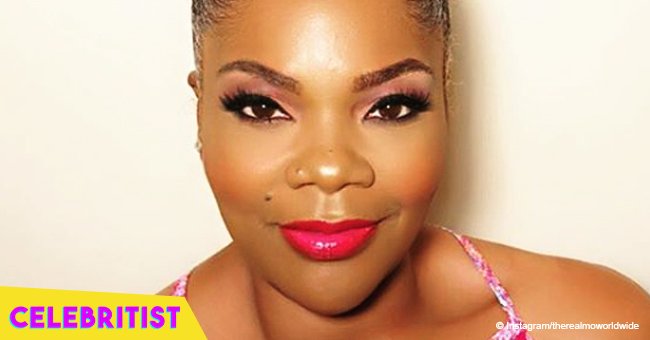 Mo'Nique accentuates her slimmer waist in tight dress after drastic weight loss
Mo'Nique stuns in a skintight printed dress as she showcases her small waist and curvy physique months after celebrating her astounding weight loss.
Ever since she shed a lot of pounds and dropped to an under-200 lb size, Mo'Nique has been glowing with happiness and confidence. Post after Instagram post, the comedian is consistent in showcasing her enviable curves brought on by her intense workout and diet.
Mo'Nique's latest post is a testament to her hard work as she fashions a skintight printed dress that accentuates her much slimmer waist and every other flattering curve she's developed. Her smile is genuine, one of a woman content with her life and body, as she shares the sentiment of her proud trainer who she mentions in her caption.
"My baby @dwightholtjr said this was LIFE."
Monique celebrated a major milestone in her weight loss journey back in March when she hit the under-200 lb weight for the first time in more than 33 years. The 50-year-old shared videos and photos of her feat on her Instagram and revealed it was the first time since she was 17 years old that she weighed in below 200 pounds. Proud of her accomplishment, she encouraged others on a weight loss journey like her to keep believing because anything is possible.
Mo'Nique also disclosed that she never resorted to surgery or gimmicks to achieve her current weight.
"For me it was with no surgery, no pre-packaged foods, not listening to no spokespeople saying 'it's easy, you can do it.' It was just putting in the work and not giving up on me,"
Along with photos of her incredible body, Mo'Nique would also often post photos of herself working out. She credits her trainer Dwight Holt Jr. for her dance workouts. Just recently, she exhibited how flexible she is when she posted a video nailing a dance routine with her pal Natoya McMurray. Clad in a pink skirt and black sleeveless top, Mo'Nique showcased her toned arms as she performed choreographed moves complete with butt shakes, twists, and turns. The high-powered number was proof of Mo'Nique's intense workout which resulted in her slimmed-down physique.
More of the actress' journey to a trimmer figure are on her Instagram account where she constantly updates fans.
Please fill in your e-mail so we can share with you our top stories!