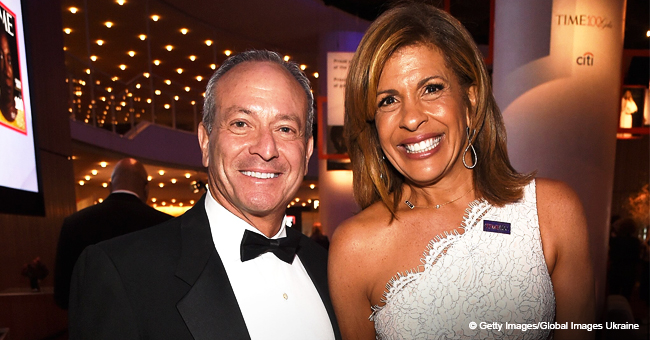 Hoda Kotb Once Said She's Going to Be with Boyfriend 'until My Last Breath' Amid 2nd Adoption News
Hoda Kotb recently expanded her family by adopting a second child. And as the news spread all over the internet, fans grew curious about the TV anchor's family, especially her partner. Kobt and her boyfriend have different views on marriage, but she's sure they will be together for a long time.
Last week, Hoda Kobt became a mom for the second time after she and her boyfriend, Joel Schiffman, decided to adopt another girl, Hope Catherine, into their family.
The pair adopted their first daughter, Haley, in 2017.
Kobt and Schiffman have been dating since 2013. And Hoda referred to their relationship as "the most natural one I've ever been in," even admitting that Schiffman is "a guy that gives me butterflies again."
Schiffman works as the head of U.S. Defined Contribution and Insurance Sales at an investment management company, according to his Linkedin. He met Hoda at a Wall Street-related event in which the TV personality gave a speech and signed some autographs.
On a visit to Andy Cohen's show, "Watch What's Happening Live," Kotb recalled their first encounter explaining that, as she was signing pictures for the "bored" wall street guys, Joel approached her, and she asked "Who should I write it to?" to which Schiffman responded "How about to me?"
Hoba got interested quickly and asked someone to find out if he was single. A few days later, he emailed her, and the rest is history.
And although they will be celebrating six years together this year, there are no wedding bells on the horizon for the couple.
Both have been married before, but according to sources close to them, Schiffman is more open to giving marriage a second chance than Hoda.
"He sees it as a natural progression of things. But Hoda sees them at their ages — she being 54 and Joel being 61, that they could live out their days blissfully without ever tying the knot," the source told Closer Weekly.
However, that doesn't mean that Hoda isn't thinking long term with Schiffman.
On WWHL, a fan asked if there were wedding plans in the future, but Hoda made it clear she's not comfortable with the idea. "I love Joel," she said. "I'm going to be with Joel until my last breath—I know that."
When Cohen asked if they were going to pull a Goldie Hawn and Kurt Russell—who were together for 35 years without ever tying the knot—Kotb replied, "I kind of like their vibe. Don't you think? I think it's okay."
Hoda and Joel are currently basking in the bliss of having a newborn at home, and they couldn't be happier.
"I think having a sister to go through life with is so important,'' Kotb said of their decision to make Haley a big sister. "Joel and I are older parents. I wanted to make sure there was somebody to witness her life."
Please fill in your e-mail so we can share with you our top stories!