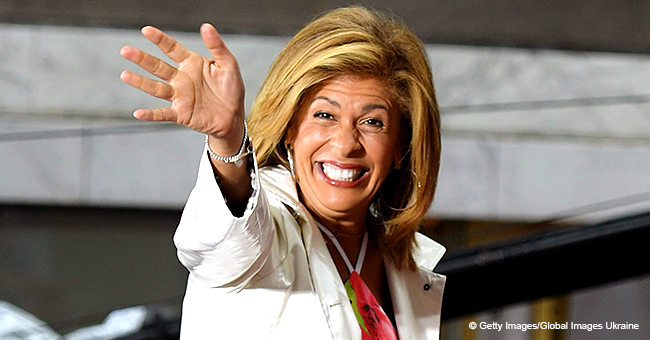 Hoda Kotb Adopts 2nd Baby
Hoda Kotb is now a proud mother of two beautiful girls! The "TODAY" anchor shared the good news on Tuesday and also revealed the reasons behind her new daughter's lovely name.
Kotb, 54, shocked fans when she made the heart-warming announcement that she adopted another baby via a phone interview on the NBC morning show.
"Hi, guys! It's a girl! It's a girl! And her name is Hope," Kotb happily revealed after getting cued in by her co-anchor Savannah Guthrie. "I'm feeding her, and I can't believe it. I'm so happy she's here!" an emotional Kotb gushed per the show's website.
In a Twitter clip, the TV host can also be heard telling her co-anchors about the first time her two-year-old daughter, Haley Joy, met their latest addition named Hope Catherine Kotb.
"We had Haley downstairs and Joel [Schiffman, Hoda's longtime boyfriend] and I said 'Wait. We have a present' and we came down holding her [Hope] and we've been telling her 'baby Hope's coming' and she literally walks up to her and goes 'Hope'"
Kotb later revealed that Haley has been marching around "saying, 'I'm a big sister!'" and even tried to feed Hope her raspberries at breakfast.
"He [Joel] cried when Tiger Woods won the Masters, and he cried when Hope was carried."
As for the thoughts behind her new daughter's lovely name, Kotb explained that "Hope" comes from the fact that she hoped and prayed to have a second child while "Catherine" was in honor of her best friend's daughter who she says "is so super strong!"
"I can't imagine any of this is happening," said Kotb while her co-anchors held back tears. "I feel like I'm gonna wake up and God's gonna say 'Hey! Remember how you were before all this? That's the way it is.'"
The "Today with Hoda & Jenna" host also opened up about realizing she had room in her heart for a second child and her boyfriend's adorable reaction:
"You know what's funny? You think that you're full. That's exactly how I felt with Haley and Joel and everything. Joel and I were standing there when they hand you the baby, and it's the closest thing to a live birth you'll ever see, but in that moment, I was like, 'Oh, my God, my heart just grew.' It's amazing. I can't believe it's happening. …He [Joel] cried when Tiger Woods won the Masters, and he cried when Hope was carried into the room."
Kotb became a mom for the first time in February of 2017 when she adopted Haley Joy. "I think having a sister to go through life with is so important,'' Kotb said of their decision to make Haley a big sister. "Joel and I are older parents. I wanted to make sure there was somebody to witness her life."
Please fill in your e-mail so we can share with you our top stories!