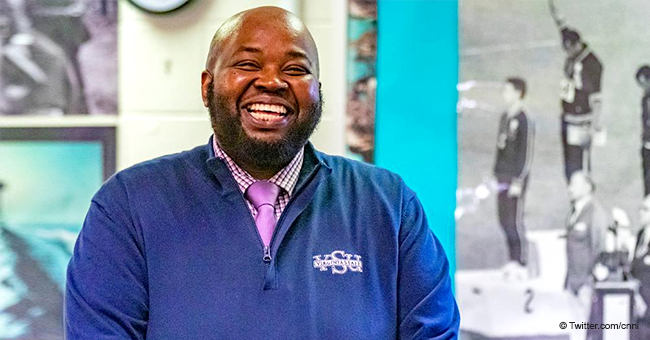 Virginia Teacher Rodney Robinson Wins 2019 Teacher of the Year
A Richmond, Virginia teacher who teaches young people at a juvenile detention center has emerged as the 2019 National Teacher of the Year.
Rodney Robinson got his first lesson in equity at a young age from his mother, and now, the social studies and history tutor plans to use his "Teacher of the Year" title to increase advocacy for "economic and cultural equity."
During a recent appearance on "CBS This Morning," Robinson, who teaches at Virgie Binford Education Center, a school inside the Richmond Juvenile Detention Center elaborated on his advocacy plans:
"By economic equity, we need to make sure all students receive the resources to achieve what he or she deserves. And cultural equity, we need to make sure that all students have teachers and people who look like them who are relevant to their culture and can inspire them to do whatever."
LESSONS FROM MOM
He explained that he learned from his mother that every child deserves the proper amount of love to get where he or she needs.
"So I try to treat my students with whatever they need to be successful," Robinson added. "Some need more; some need less. But I'm going to be there to give you what you need."
Robinson's insistence on being equitable is also rubbing off his students who, according to him, often pitch in to help their colleagues that need more to ease their teacher's burden.
'THEY'RE PAYING FOR MISTAKES'
"There's no difference," Robinson replied when show host Gayle King asked if students at the Juvenile Detention Center school differed from their mates in regular schools. "My kids are just teenagers; They like cheesy, teenage stuff …But they just made mistakes, and they're paying for mistakes."
Ta'Neshia Ford, the principal at Virgie Binford Education Center, recruited Robinson to join her team and told the CBS crew that he is "more than just a teacher."
"He is a pillar of our community," Ford said. "He is the father, the big brother, the friend. No one has a bigger heart than Rodney Robinson."
GLOWING TESTIMONIALS
Robinson's former students, Doron Battle and Hubert Anderson who are now teachers themselves, also spoke about their former tutor's impact.
Anderson has not forgotten a vital lesson he learned from Robinson:
"I would say the biggest lesson he taught me was to always strive for excellence and to never slack. You have a gem in the nation, you know, who's making a solid impact."
"He's genuine. He's one of one," Battle added.
For Robinson, however, the "Teacher of the Year" honor is a recognition for his students who have been accused of crimes in varying ranges from skipping school to murder.
"My students are so amazing, and their story doesn't get told," observed Robinson. "And so a lot of times, it's just a great opportunity to tell my students that sometimes a temporary setback could be what you need in order to succeed in life."
Please fill in your e-mail so we can share with you our top stories!