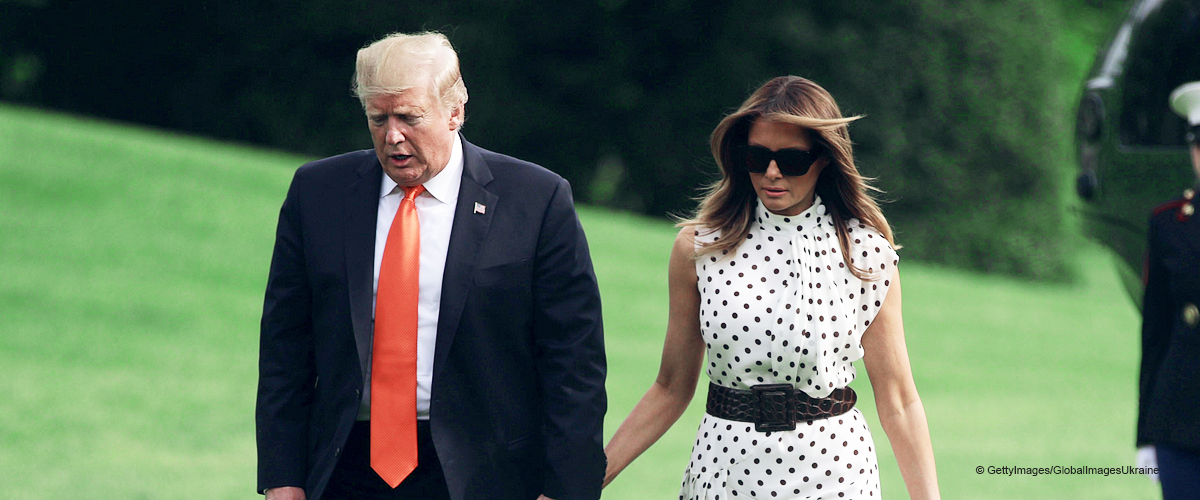 Melania Looks Glamorous Alongside President Trump at the Opioid Summit
Melania Trump was recently spotted wearing a very chic and spring-ready look on her way to board a flight from Washington to Atlanta with her husband, Donald Trump.
The First Lady of the United States, known for her incredible fashion sense and style, dressed to impressed as she strolled down White House grounds wearing a white and brown polka dot frock.
Melania, who turns 49 on Friday, April 26, matched the high-neck ensemble with a brown belt around her slim waist, a cream-colored overcoat and a pair of her trademark stilletos.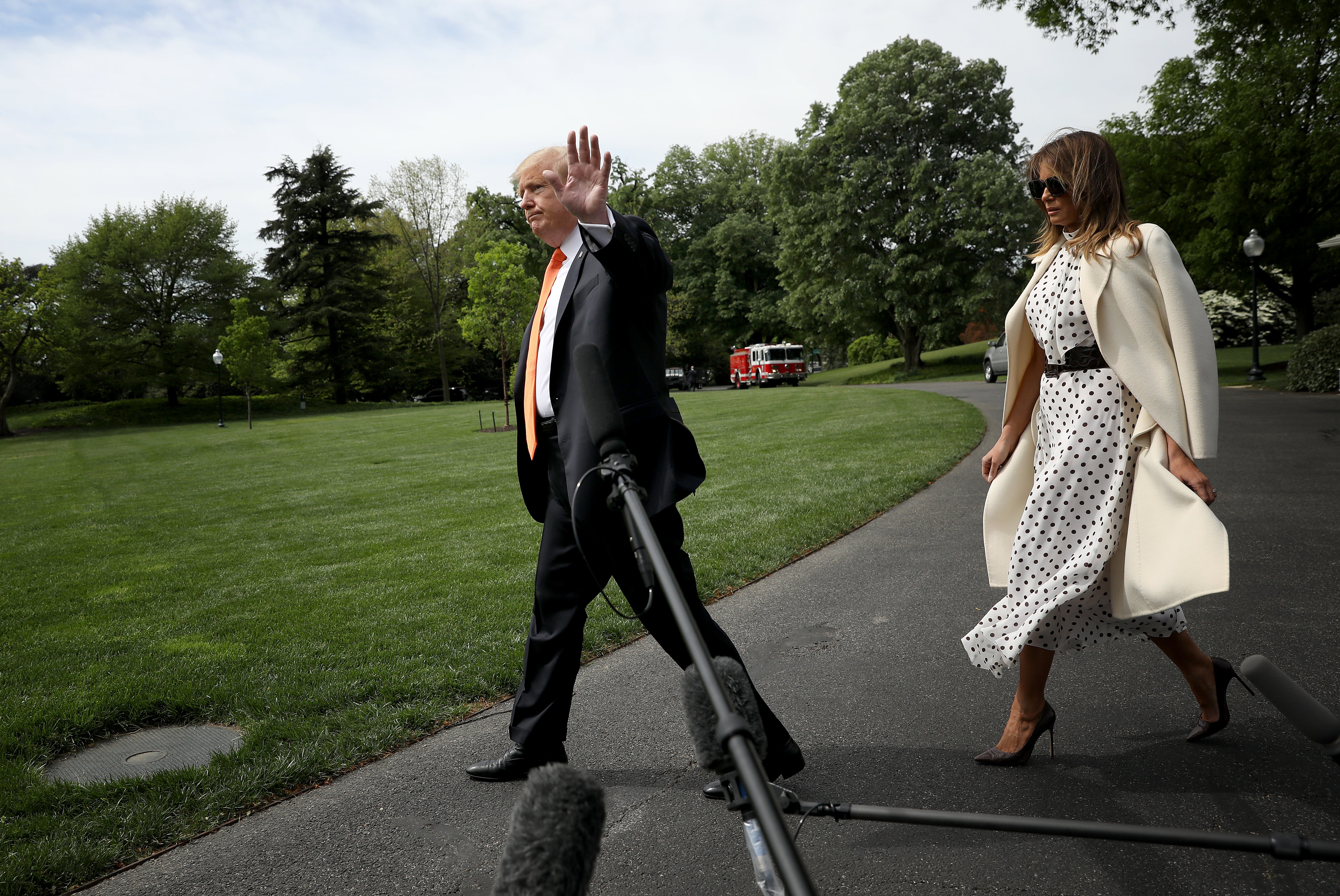 Donald Trump and Melania Trump on the White House grounds as they prepare to fly to Georgia | Photo: Getty Images
WORKING TOWARDS A DRUG-FREE COUNTRY
The President of the United States looked very sharp as well, opting for a classic black suit with an orange tie for their trip to Atlanta, Georgia, where they attended the Rx Drug Abuse and Heroin Summit.
We will continue to raise awareness of the dangers of opioids to unborn babies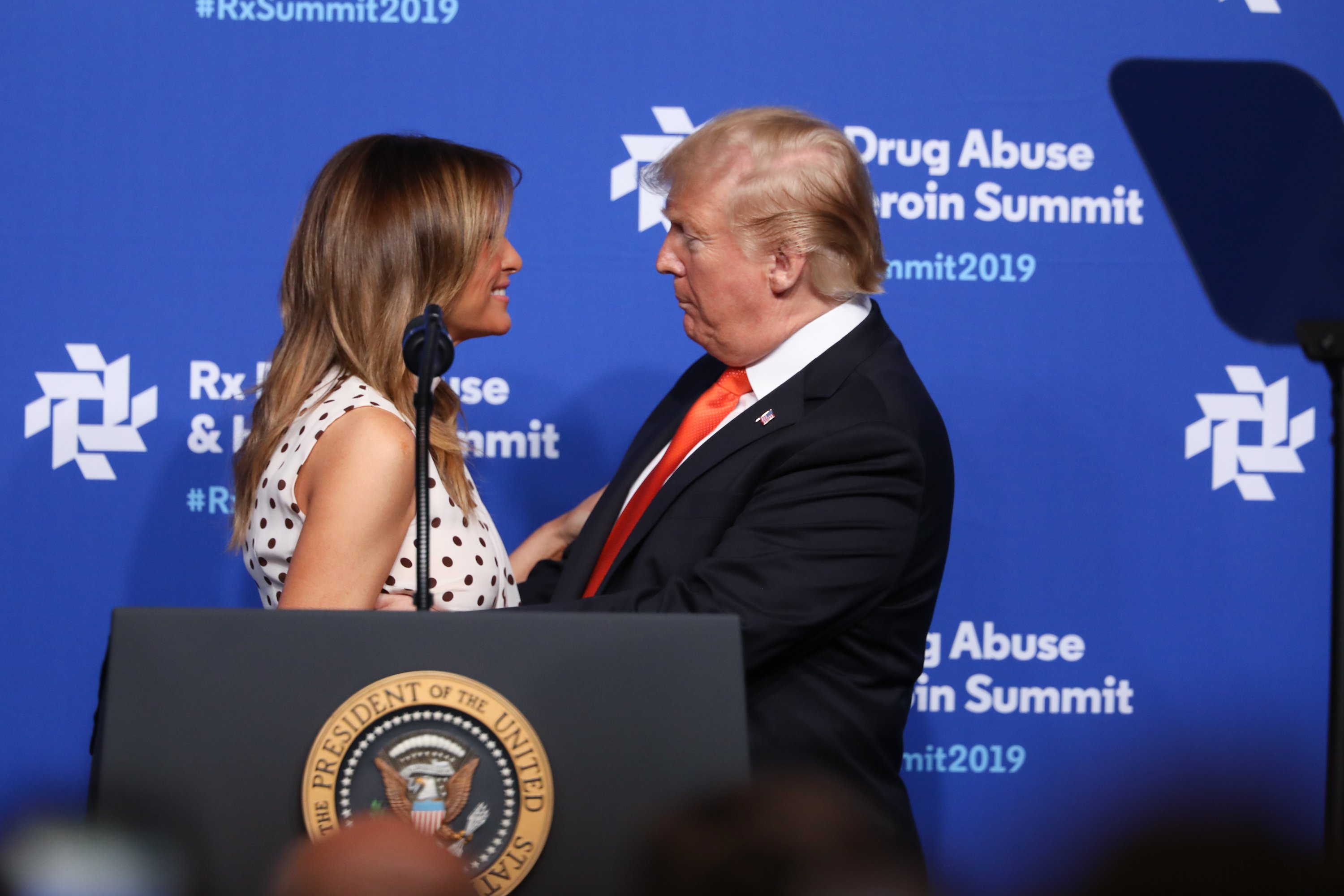 Donald Trump greeting Melania Trump after her speech at the Rx Drug Abuse and Heroin Summit in Atlanta, Georgia | Photo: Getty Images
There, Melania took the stage and delivered a speech against opioid addiction, an issue that currently affects the lives of millions of Americans.
The mother-of-one started by thanking members of law enforcement who protect the people on a daily basis, claiming that the Trump administration will always honor their "life-saving work."
PROTECTING THE YOUNG ONES
Regarding drug abuse, Melania shared that the problem has been taking a toll on children and, especially, young mothers, and that she has witnessed this many times during her visits to hospitals and treatment centers.
During her speech, the First Lady made a vow:
"We will continue to raise awareness of the dangers of opioids to unborn babies. We are also committed to supporting more treatment facilities that have both mothers and babies recover, and replace the bond of addiction with the bond of love between a mother and her child."
THE 2019 EASTER EGG ROLL
Melania's appearance at the Rx Drug Abuse and Heroin Summit came just a few days after the annual Easter Egg Roll, which took place on Monday, April 22, at the White House.
Around 30,000 guests showed up to the event hosted by the First Lady, who took the opportunity to interact with the children participating in several activities, such as egg racing and hopscotch.
The Easter Egg Roll was such a success that Trump couldn't help but praise his wife for it, stating that she worked very hard to its organization and that none of it would have been possible without her.
Please fill in your e-mail so we can share with you our top stories!